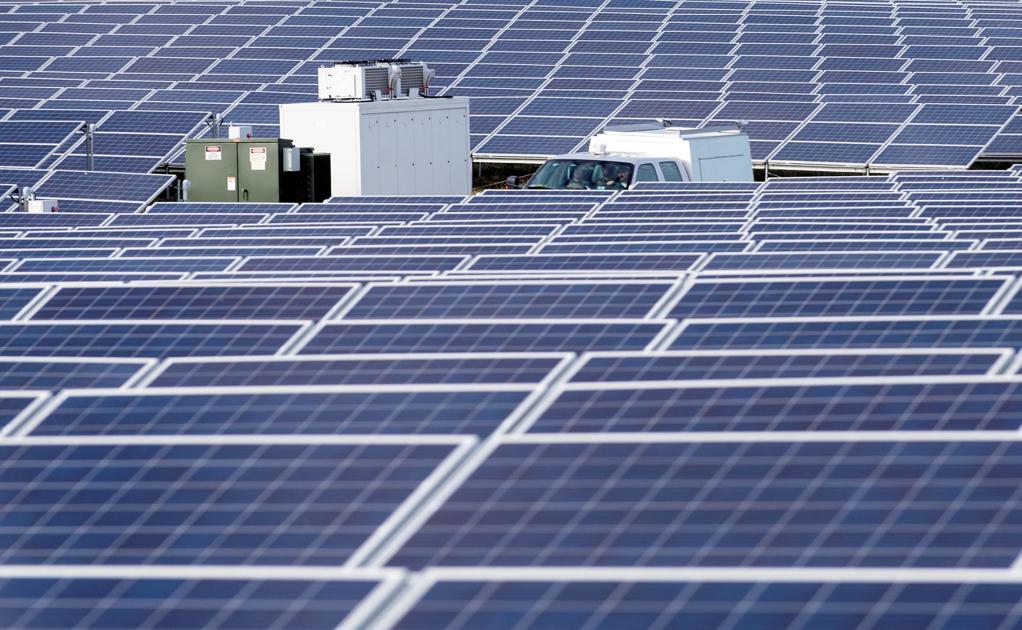 CHAMPAIGN — The University of Illinois is poised to sign a $20.1 million power-purchase agreement with an East Coast company to operate the UI's second solar farm in Savoy.
Under the 20-year contract, Sol Systems LLC would design, build and operate the 10-megawatt solar array and sell the energy to the campus at a fixed rate each year.
The 55-acre solar farm is planned on a former UI agricultural research plot along the north side of Curtis Road, between First Street and the Canadian National railroad tracks that parallel Neil Street.
It's designed to help the university meet clean energy targets outlined in the Illinois Climate Action Plan, which calls for the UI to cover 25 percent of its energy needs with renewable sources by 2025. That includes generating 25,000 megawatt hours each year through solar energy.
The new project will allow the UI to reach that solar-energy goal by fiscal 2021, according to Shawn Reeder, assistant vice president for the UI Office of Capital Programs and Utility Services.
The current 21-acre solar farm on Windsor Road, which went online in 2015, produces about 7,000 megawatt hours a year. The new array will provide at least 18,000, officials said.
The UI Board of Trustees will be asked to approve the 20-year agreement with Washington, D.C.-based Sol Systems next week, acting in its role as sole owner of Prairieland Energy Inc., a corporation created to buy wholesale energy more efficiently.
Design work would follow, with construction to begin either in late fall or early spring. The new solar farm could start production by next summer, UI officials said.
The UI's first solar farm on Windsor Road was built under a similar 10-year agreement with Phoenix Solar Inc.
The public-private partnerships allow the university to effectively finance the cost of the facility over the life of the agreements instead of paying for them up front, according to UI officials. The companies can also take advantage of federal clean-energy tax credits.
Cheaper than 2018 deal
The campus wanted a 20-year agreement this time to spread the cost over a longer period. Trustees last year authorized Prairieland to enter into power-purchase agreements of up to 20 years to buy sustainable energy.
The UI plans to buy the first solar farm from Phoenix Solar at the end of that 10-year agreement, and the proposed contract with Sol Systems includes a similar option to buy after 20 years, said Mohamed Attalla, executive director of UI Facilities and Services.
Sol System's website says its three divisions have developed or financed solar projects valued at more than $1 billion for Fortune 100 companies, municipalities, counties, utilities, universities and schools.
A total of 19 vendors responded to the UI's request for proposals for Solar Farm 2.0 last spring, and four were reviewed in depth. The Sol Systems proposal was $5.8 million cheaper than the next lowest bid, UI officials said.
Under the proposed agreement, the UI will pay about $46 per megawatt hour for electricity produced by the solar farm. That's a $200,000 to $300,000 annual savings over what the UI paid in fiscal 2018 for electricity purchased off the grid — about $63 per megawatt hour, said Reeder, who is also president of Prairie-land Energy.
By contrast, the first solar farm effectively required a campus subsidy. The university promised to pay the company about $1.5 million a year, or $15.5 million over 10 years — about $5.3 million more than it would cost to get the same energy from conventional sources. To help cover the subsidy, the UI's Student Sustainability Committee pledged just over $1 million using revenue from a student sustainability fee.
The new contract offers a "much more attractive utility rate than we would even pay if we were buying power from Ameren," Reeder said.
'A historical moment'
Attalla said solar technology has advanced significantly in the last few years, improving the productivity of solar panels. The UI also bought double-faced panels that will rotate to track the sun.
"All of that maximizes exposure and productivity, which is why the cost per kilowatt hour came down," he said.
"This is a historical moment, really, in this industry. It usually has been the case that power produced by solar panels is the most expensive form of power," but that's no longer true, Attalla said.
The UI also used an "open book" procurement process for the first time, asking companies to show their construction costs, anticipated operating costs and profits. He thinks that, and the 30 percent federal solar energy tax credit, contributed to better pricing.
Attalla is hopeful construction can start this fall and finish up by early summer, though Reeder was more cautious.
Solar farms can be built quickly, he said, but "we do have a really tight labor market right now, with the number of construction projects in the community."
The village of Savoy signed off on the new solar farm after expressing some initial concerns. Officials had worried about noise from the facility and its proximity to housing developments across the street.
UI representatives agreed to incorporate their suggestions, such as planting a larger buffer of trees and pollinator plants along the edge of the solar array, installing more attractive blue solar panels, and adding sound-absorbing panels and other features around the solar inverters to reduce noise.
Source: https://www.news-gazette.com/news/ui-poised-to-sign-million-power-purchase-contract-for-second/article_863019e7-6dda-5fa1-933d-d5037e251b73.html