The Q3 results provided welcome news on the progress Tesla (TSLA) has made in ramping up Model 3 production. This leaves the way open for management to put more stress once more on the energy storage business.
As my article in August detailed, there is a good deal of activity and future potential for Tesla in energy storage. This has recently been going somewhat under the radar. Much of the expected surge in business may come in the form of "virtual power plants". These use widespread clusters of residential batteries. Large-scale utility projects will continue to contribute significant volume as well.
Q3 and Energy Storage
The progress made in Q3 can be seen in the official filing here.
Despite the focus on meeting auto targets to satisfy analysts and the market, much was achieved. That is illustrated in graph form below: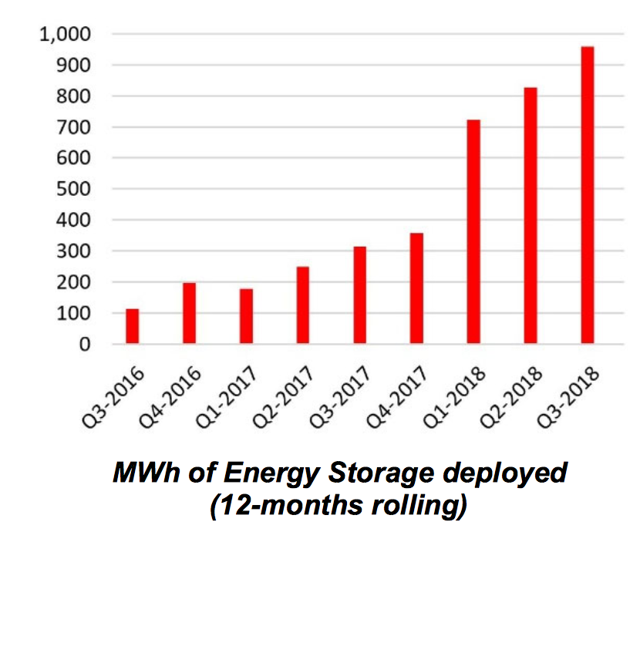 The original forecast was for the company to triple deployment of energy storage in 2018. The company is well on its way to doing this. Deployments grew to 239 MWh in Q3. This represented growth of 18% sequentially and 118% compared to Q3 2017. The target for 2019 is for a further 3 to 4 times growth.
The margins on energy storage "improved materially in Q3". This was primarily due to greater scale and improved manufacturing efficiency. This is still a process. We can expect margins to continue to improve for a few quarters yet. The expected fall in lithium ion battery prices should accelerate the trend further. There are many forecasts on battery costs. Many believe that battery costs by 2025 will be 50% lower than they are now.
At the results analyst call, Musk affirmed:
"We saw higher revenues and significantly better profitability in our Energy business."
He stated the company is working on further improvements to both the residential and commercial products.
For the energy storage division, supply was the problem.
Long-serving Chief Technical Officer J.B. Straubel confirmed that the impact of cell supply constraints was largely felt on the energy products. This was something he had said at the Q2 results when he admitted focus had been switched to the Model 3 programme.
Tesla is working hard with partners Panasonic (OTCPK:PCRFY) to improve cell capacity. One new line at the Gigafactory was started recently, and it was hoped that two more would be online by year end.
He stated:
"The Panasonic supply is expanding, the productivity of existing lines is continuing to improve… we continue to bring on line new product lines."
Some outsourcing of batteries from Japan had also been affected. This is presumably from Samsung (OTC:SSNLF). Elon Musk recently stated that local sourcing in key markets may expand next year.
Long term, it is expected that co-investment with Panasonic will continue to increase. Panasonic is thought to have invested about US$1.6 billion in the Nevada plant so far. This contradicts Tesla bears who have claimed this is not a meaningful long-term partnership.
In the latest 10Q filing, Tesla stated they expected capex of between US$2.5 billion and US$3 billion annually over the next few years to be covered by cash generated. They did state that for the China factory they might tap into "indebtedness arranged through local financial institutions in China". Their manageable capex and debt obligations were also said to be "consistent with our current strategy of using a partner to manufacture cells."
Panasonic has already stated it was open to the idea of manufacturing jointly in Tesla's upcoming Shanghai plant. Panasonic itself began manufacturing cells specifically for EV's (electric vehicles) in its Dalian plant in May this year. They have plans to expand this plant further as they ramp up production in China to compete with CATL and BYD in battery manufacture there. The increasing co-operation between Tesla and Panasonic in the USA is very likely to be replicated in China.
As my previous article pointed out, the other big players are likely to be Chinese. Vertically integrated BYD Auto (NASDAQ:OTCPK:BYDDF) in particular has the capital and installed capacity to be the market leader. Tesla can still be a substantial player in an ever-growing market, though. Co-operation with the world's leading battery suppliers in China must also be a possibility.
Vertical integration makes the energy storage route a natural one for forward-looking auto companies such as Tesla and BYD. Renault recently agreed with this. The French leader of EVs has confirmed it is setting up an energy storage company in Europe. Within a couple of years, this should reach 70MW/60MWh utilising used auto batteries. This is a route BYD are also taking. In their case, they will utilise mainly e-bus batteries which are more cost-effective than auto batteries.
Powerwall & Residential
The large-scale utility projects tend to get the headlines. "Powerpacks" have been deployed at major projects around the world. The huge success of the largest battery project in the world at Hornsdale in South Australia and the efforts to help Puerto Rico rebuild are well known.
Long term, however, the residential "Powerwall" product may be more important to the company. In the USA, the company is giving priority of supply to "Powerwalls" supplied with solar installations. When the delayed "Solar Roof' product comes fully on-stream, that should give a strong boost to the offering.
Worldwide, the company believes that residential solar will grow strongly for them on the back of owners of Tesla autos. The rapidly growing Tesla auto customer base will give Tesla the vertical integration advantage of on-selling residential energy systems. The strategy has already been a successful one for Tesla in Australia. This is similar to how Apple (AAPL) has boomed on the back of iPhones, or how Sony (SNE) has boomed on the back of PlayStation units.
An example of this in the U.K. is detailed here. This shows how EVs can themselves be part of the domestic energy picture. The intelligent forecasting software in the "Powerwall" is a key element in making this work.
The problem for the company is that they are supply-constrained. This is mainly because of the emphasis on the Model 3 in the recent quarters. Continuing strong demand for the Model S and Model X also played its part.
Comments from Tesla consumers paint a mixed picture. Some customers who ordered in May have been told they will not get supply until 2019 due to "overwhelming demand". Conversely, one customer in Australia who ordered in November 2017 received his supply in January 2018. Often, there are sharply contrasting delivery times quoted depending upon a customer's geographical location. Some have cited the cause as being priority of supply for Puerto Rico following the hurricane there. The biggest impact though would seem to be the priority of getting supply out for the Model 3.
In October, the company increased prices again for the "Powerwall 2". When the product first came out, it was lauded for under-cutting the competition. Since then there have been price increases, but it still appears competitive compared to the competition. In the latest price round, it is the Gateway communications box which is the main price uplift factor.
The competitiveness of a system for a consumer depends largely upon the difference between that consumer's highest peak rate and their lowest off-peak rate. In the USA, this normally means West Coast and East Coast urban areas make it a worthwhile economic investment. Australia is a strong energy storage market at present because of the combination of high energy tariffs and widespread use of renewable energy sources.
The issue of government and State tax rebates and credits is also relevant. Despite the anti-environmental stance of the Federal government, State legislatures will continue to lead the drive for renewables and resultant incentives. California is the most glaring example of this.
In inland USA, energy storage tends to be less competitive. However, such areas quite often have an issue of power outages. A battery system is a much more economical solution to the problem compared to purchasing a generator. Power outages will arguably become more common due to the effects of climate change.
The focus on the individual consumer may be less for Tesla. The company seems to be focusing on the conglomerations of residential units together. In Australia, Tesla have their much vaunted virtual power plant plan which would incorporate up to 50,000 homes with 650 MWh of battery storage by 2022. There must be doubts whether Tesla will have the battery manufacturing capacity for this to reach its potential by then.
However, such virtual power plants are their focus elsewhere as well. In June, Tesla had announced they had about 11,0000 energy storage projects in the works for Puerto Rico. They had previously supplied a host of small projects there such as a sewage treatment plants water pumping station and a hospital. Ongoing now in Puerto Rico, there is a host of decentralised power systems using individual "Powerwalls" or small clusters of "Powerwalls".
Such a virtual power plant has also been set up in Lebanon. There have been a series of projects where Tesla has supplied energy storage systems for island communities. These might be said to be a good niche market.
As I detailed in an article earlier this year, there is a close correlation between people who have solar energy in their homes and people who are keen to install battery storage systems in their homes. Solar energy in homes is an undoubted secular growth market.
Powerpack & Commercial
In a recent interview with Recode, Musk stated:
"We're gonna have some other exciting announcements on the stationary storage front".
It was not clear whether this was on the commercial or residential side. More likely it is on the commercial as he also stated:
"We have a large product on the stationary storage side that I think will be very compelling for utility customers."
It will be interesting to see what these comprise. It is at least a sign that energy storage is still very much on the CEO's radar.
Tesla is awaiting confirmation for the massive PG&E (Pacific Gas & Electric Co.) project at Moss Landing in northern California. The utility itself is awaiting approval from the California Public Utilities Commission. This is likely to be forthcoming as California is a leading proponent of lithium ion energy storage projects. PG&E has stated that such projects lead to better grid reliability, smooth integration of renewables, and allow customers to save energy and thus money.
The project would entail 30,000 Tesla Powerpack 2 batteries in the first instance. The project could later be expanded up to 1.1 GWh.
It is quite likely that we will see a series of occasional high profile mega-projects secured by Tesla over the next few quarters. The Hornsdale project in South Australia has shown the success this model can produce. A McKinsey report stated that there had been a 90% cost reduction for ancillary services. It also of course has helped replace peaker plants which are intrinsically wasteful and polluting.
In August, Tesla secured another project in South Australia. Working with Infigen Energy, this will supply a 25MW/52MWh installation at the Lake Bonney Wind Farm.
The secular trend in favour of mini-grids and decentralised systems is something for which Tesla has been at the forefront.
Conclusion
There is little doubt that battery energy storage is a secular growth industry. As Straubel recently stated, it is the "holy grail" of new energy. He explains how the biggest advantage of it is its scalability and flexibility. Tesla is well placed to be a leading player.
At the Q2 analyst call, Tesla management had re-affirmed that it expects energy storage revenue to equal that of autos for the company. Many analysts under-estimate the potential for the company and its stock price of this. The problem is not lack of demand but lack of supply. Capital constraints have been seen as a major impediment to growing the business strongly. The latest 8K suggests that these are easing.
Energy storage is a secular growth trend as renewables worldwide expand at a rapid pace. The GTM report I quoted in my August article predicts this will cause battery storage deployment to increase from 295 MWh in 2017 to 2535 MWh in 2025. Tesla is well placed to take a major share of this secular growth market.
Disclosure: I am/we are long TSLA, BYDDF, AAPL.
I wrote this article myself, and it expresses my own opinions. I am not receiving compensation for it (other than from Seeking Alpha). I have no business relationship with any company whose stock is mentioned in this article.
Source: https://seekingalpha.com/article/4219566-teslas-energy-storage-business-set-come