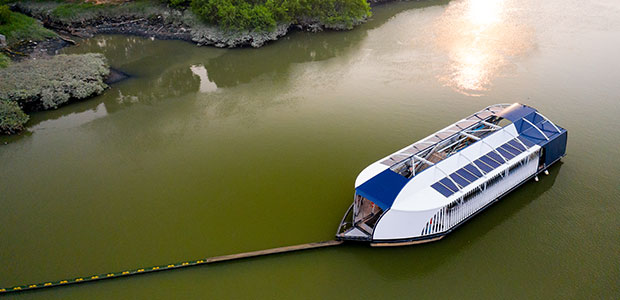 Solving the Plastic Pollution Problem: Ocean Cleanup Interceptor Releases a Floating Solution
Dutch non-profit called The Ocean Cleanup just launched the Interceptor—a kind of autonomous, water vacuum to collect trash and plastic before it reaches the ocean. This massive cleanup effort is part of its overall goal of lessening plastic waste worldwide.
At least eight million tons of plastic end up in the oceans each year, reports the International Union for Conservation of Nature (IUCN) – and yet, each year the globe sees a production of 300 million tons of new plastic. Many environmentalists and policy makers wonder what kind of massive solution is needed for this massive problem. A non-profit called The Ocean Cleanup may have just come up with a revolutionary step.
Plastics are littering oceans, rivers, and lakes, breaking down into smaller particles. A significant percentage of the plastic that enters the oceans from rivers and other sources drifts into large systems of circulating ocean currents, known as gyres. Once trapped in a gyre, the plastic slowly degrades into microplastics, contaminating ecosystems and water sources.
But this is not just about the environment and the wildlife that live underwater—aquatic pollution affects everything from species, ecosystems, human health, coastal tourism, and contributes to climate change. For a more in-depth glimpse of just how intensive this problem is, just visit PlasticPolution.org.
As complex and overwhelming as this issue is, the Interceptor is doing something about it.
Imagine a big pool net—but solar powered, autonomous, and floating down a river. The Interceptor is a recently-released, 100 percent solar powered, autonomous system for collecting plastic pollutions from rivers before it reaches the sea. Plus, its advanced technology allows it to move with currents, just like plastic, to avoid needing much operational energy.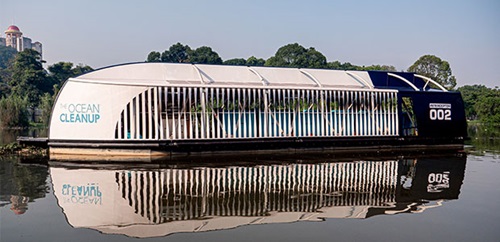 Source: https://eponline.com/articles/2019/10/30/ocean-cleanup-interceptor-releases-a-floating-solution.aspx?m=1