Overview
Headquarters: Herziliya Pituach, Israel
Employees: 2,431
Founded: 2006 in Israel by 2 technologists: ex-CEO Guy Sella (deceased) and Lior Handelsman who are CEO and VP of Marketing respectively.
IPO: listed on 26 April 2018 at $29, raised $629m.
SolarEdge's (SEDG) mission is to become the leading provider of inverter solutions across all Solar market segments and broaden the availability of clean, renewable solar energy. Both founders worked in the Israeli Defence Force. Sella worked in Israel's national labs and in VC while Handelsman remained in IDF for 12 years after which they founded SolarEdge.
SolarEdge invented an intelligent inverter solution that has changed the way power is harvested and managed in a solar photovoltaic (Solar) system. The SolarEdge DC optimized inverter system maximizes power generation at the individual Solar module level while lowering the cost of energy produced by the solar system.
Since introducing the optimized inverter solution in 2010, SolarEdge has expanded to other areas of smart energy technology through organic growth and through acquisitions. It now offers energy solutions which cover small to large scale Solar systems, energy storage systems, electric vehicle components and charging capabilities, home energy management, grid services, virtual power plants, lithium-ion batteries and uninterrupted power supply solutions.

Source: Company Filings, 2019 Investor Presentation
SolarEdge began its commercial sales with a product offering of a simplified inverter, power optimizers, and cloud-based monitoring platform. As the solar energy industry has evolved, SolarEdge has developed innovative solutions to further enhance smart energy technology including inverters that include compatibility with batteries for increased self-consumption and storage, inverters that allow EV charging, smart meters, smart energy devices (sockets, water heater controllers, wireless relay) and smart Solar modules. This product expansion has enabled it to increase average revenue per installation, or ARPI.
We believe the company is pushing hard into software and solutions which will propel its next phase of growth.
Products and Services
SolarEdge Power Optimizer
A highly reliable and efficient DC‑to‑DC converter which is connected by installers to each Solar module or embedded by Solar module manufacturers into their modules as part of the manufacturing process.
SolarEdge's power optimizer increases energy output from the Solar module to which it is connected by continuously tracking the maximum power point or MPP of each module and controlling its working point. The power optimizer's ability to track the MPP of each Solar module and its ability to increase or decrease its output voltage, enables the inverter's input voltage to remain fixed under a large variety of string configurations. This feature enhances flexibility in Solar system designs, allows for performance monitoring of each Solar module and communicates this data to the SolarEdge inverter using a proprietary power line communication. In turn, the inverter transmits this information to SolarEdge's monitoring server (software).
Each power optimizer is equipped with SolarEdge's proprietary safety mechanism which automatically reduces the output voltage of each power optimizer to 1V unless the power optimizer receives a fail‑safe signal from a functioning inverter. As a result, if the inverter is shut down (e.g. for system maintenance, due to malfunction, in the event of a fire or otherwise), the DC voltage throughout the system is reduced to a safe level.
SolarEdge's power optimizers are compatible with nearly all modules available today and carry a 25-year warranty. They're designed to be used with SolarEdge inverters as well as third party inverters to provide power optimization. Monitoring and safety features can also be achieved with third party inverters by adding supplemental communications hardware.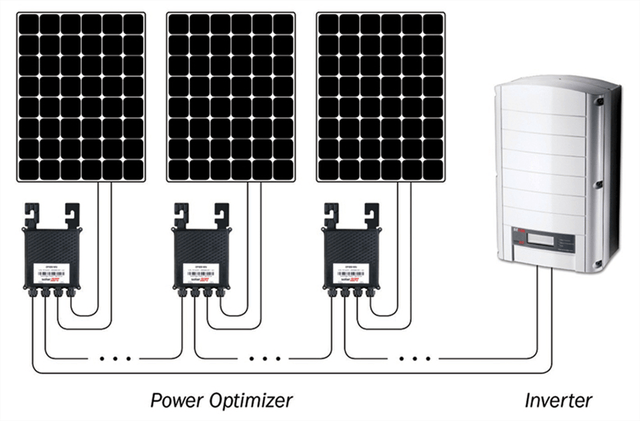 Source: Company Website
In 2019, revenues derived from the sale of power optimizers represented 45% of the total.
SolarEdge Inverter
DC-to-AC inverters contain digital control technology with efficient power conversion architecture resulting in superior solar power harvesting and high reliability and are designed to work exclusively with SolarEdge DC power optimizers.
A proprietary power line communication receiver is integrated into each inverter, receiving data from SolarEdge power optimizers, storing this data and transmitting it to their monitoring server when an internet connection exists. The inverter is able to operate at its highest efficiency at all times and therefore is more cost‑efficient, energy efficient and reliable than competing offerings.
The vast majority of SolarEdge inverters are sold with a 12‑year warranty that is extendable to 20 or 25 years for an additional cost. During 2019, revenues derived from the sale of inverters represented 44% of the total.
StorEdge Solutions
A DC coupled solution that is used to increase energy independence and maximize self-consumption for homeowners by utilizing a battery which is sold separately by third party manufacturers, to store and supply power as needed. The solution is based on a single inverter for both solar and storage which is designed to provide smart energy functions such as maximizing self-consumption, Time-of-Use programming for desired hours of the day, and home energy backup solutions.
SolarEdge's proprietary monitoring platform provides visibility into battery status, solar production, and self-consumption, while offering easy maintenance with remote access to inverter and battery software.
SolarEdge Software
SolarEdge offers professional software tools to cover system design and monitoring:

Designer app is a free web-based tool that helps solar professionals to plan, build and validate SolarEdge residential and commercial systems from inception to installation. Helps installers to impress their customers with visually attractive 3D simulations, quickly modify designs and offer compelling customer proposals with comprehensive reports and accurate energy simulations.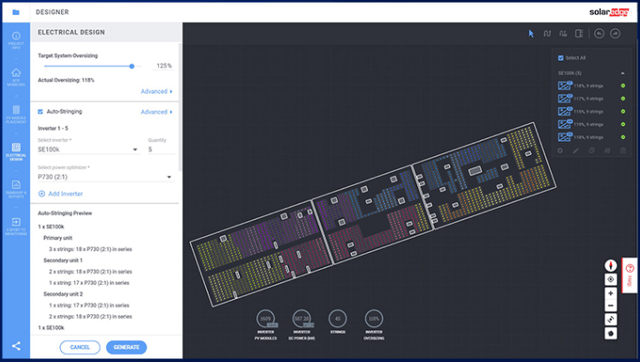 Source: SolarEdge Website
Mapper app provides SolarEdge installers with an efficient, streamlined process for registering the physical layout of new Solar sites in the SolarEdge monitoring platform. Installers use the Mapper app to scan SolarEdge power optimizer and inverter barcodes, creating a virtual map of the Solar site in the monitoring platform to help facilitate remote diagnostics.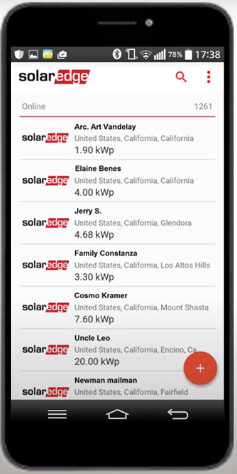 Source: SolarEdge Website
SetApp is used to activate and configure SolarEdge inverters during commissioning directly through a smartphone. Works simply by scanning a QR code, pairing an inverter to the connected smartphone and configuring.
SolarEdge's cloud‑based monitoring platform collects power, voltage, current and system data sent from their inverters and power optimizers and allows users to view the data at the module level, string level, inverter level and system level from any browser or from most smartphones and tablets.
The monitoring software continuously analyzes data and flags potential problems and includes features which are used on a routine basis by integrators, installers, maintenance staff, and system owners to improve a solar system's performance by maximizing solar power harvesting and reducing O&M costs by increasing system up‑time and detecting Solar module performance issues more effectively.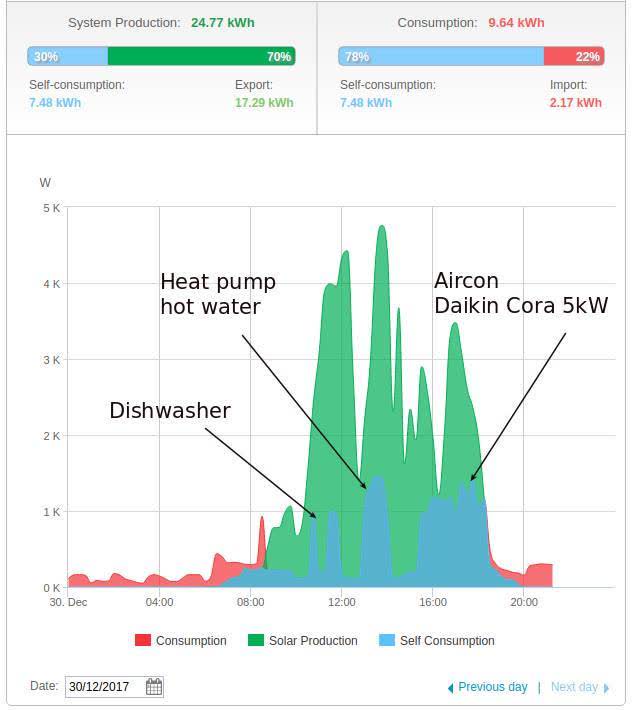 Source: SolarEdge Website
Smart Energy Management
Inverters are taking on an expanded role in energy management and automation, leading to demands for automation products which SolarEdge is developing and providing. These are designed to allow system owners to increase self-consumption by shifting energy usage to match peak solar production as well as offer a convenient, wireless control option over various building and/or home devices e.g. using excess solar energy to heat water or the ability to remotely turn on or off certain power sources such as lighting or electrical appliances.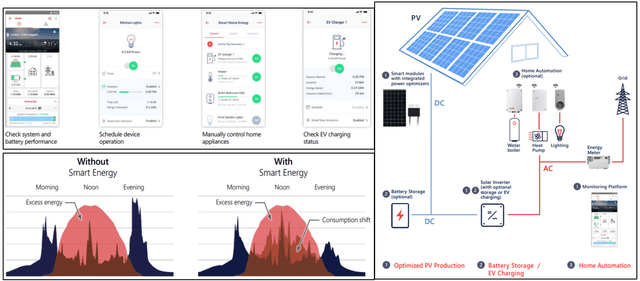 Source: SolarEdge Website
Grid Services
As Solar and storage continue to proliferate around the world, energy production is transitioning from a centralized system to a distributed network model, where energy is produced close to the location in which it is consumed and stored. This model creates an opportunity for new interconnected and decentralized energy networks offering improved grid reliability and stability, new energy services and reduction of grid infrastructure costs.
SolarEdge grid services deliver near real-time aggregative control and data reporting, enabling the pooling of distributed energy resources, photovoltaic systems, battery storage, electric vehicle chargers, and loads — in the cloud for the creation of virtual power plants.
Network operators can use pools of Solar systems, batteries, and EV chargers to instantly, and automatically, modify generation or consumption to stabilize grid frequency and voltage. This can be done through SolarEdge's Grid Services API allows real-time control and data reporting of thousands of resources and controls batteries, EV chargers, water heaters, thermostats etc. Energy retailers can reduce costs during peak price hours by facilitating access to stored energy and interruptible loads through automatically discharging energy, or removing demand to reduce consumption based on price signals.
In 2019, SolarEdge generated revenues from selling grid services in the U.S, Europe and Australia, including services provided to independent system operators, energy retailers, national installers and others.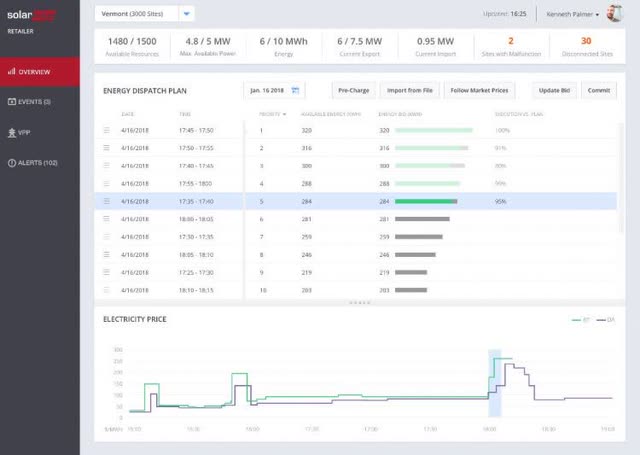 Source: SolarEdge Website
SolarEdge Technology
The solar industry used traditional string and central inverter architectures to harvest solar power which result in energy losses and limit design flexibility, safety and monitoring. Over the years, microinverter technology was introduced to resolve these challenges, but this technology has its inherent limitations. The SolarEdge DC optimized inverter system consists of an inverter and distributed power optimizers and best addresses all these challenges.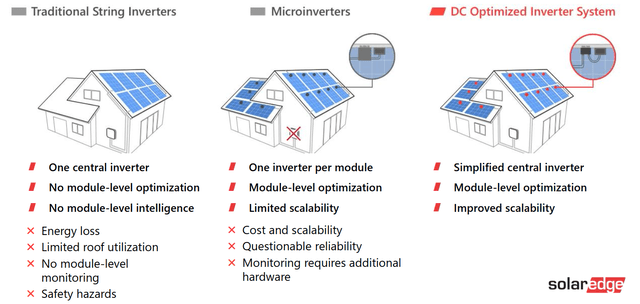 Source: 2019 Investor Presentation
Optimizers retain the cost edge over micro-inverters of up to 20%. This is significant for home installations, where consumers tend to go for the cheapest option.
SolarEdge's key proprietary technology is the integrated circuit which controls the optimizers, and the power line communications link between the optimizers and the inverter.
Market Size and Growth
According to the Solar Energy Industry Association, the size of the solar market in the US is $25-$30bn. Residential installations comprise ~15-20%, commercial ~10-15%, and utility scale projects the rest. The size of the ex-US solar market is at least 6x the US market as estimated by the SEIA, or ~120 GW, and by 2025 is expected to rise to approximately 180 GW.
The 2020 global market of ~120 GW growing ~180 GW/year in 2024, and assuming a similar mix of residential, commercial, and utility scale solar as the US, the global market for Solar should rise from ~$173bn in 2021, to $230bn, by 2025, a CAGR of ~9% p.a.
The global inverter market is ~$7.3bn in 2020 (grew 18% in 2019), forecast to increase to $15.4bn by 2025 according to data from Wood Mackenzie. The global battery market is ~$10bn, rising to $30bn by 2025. The total serviceable market by the inverter companies is estimated to be $17bn in 2020, rising to $45bn by 2025, or a 22% p.a. CAGR.
Global Solar panel market growth forecasts:
Allied Market Research forecasts 25% p.a. CAGR between 2019 – 2026.
Solar Power Europe forecasts CAGR of 11%p.a., and a high/low forecast of 17%p.a. and 2%p.a. respectively.
Mordor Intelligence expects a CAGR in excess of 12% p.a. for the global residential solar market.
Competition
Markets for solar products are competitive and SolarEdge competes against manufacturers of traditional inverters and manufacturers of other module-level power electronics or MLPE. Despite this, SolarEdge's DC optimized inverter system carries significant technology and cost advantages which are suitably differentiated vs. traditional inverter systems and microinverter technologies.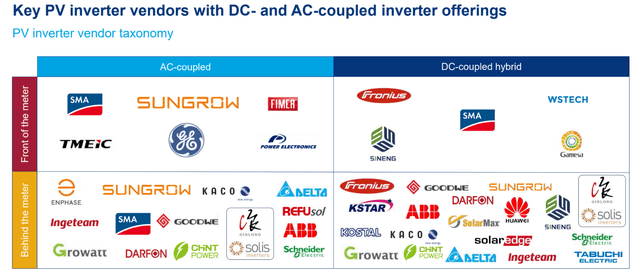 Source: Wood Mackenzie
SEDG has 3 main competitors who currently provide MLPE solutions, although none offer the same solution as SolarEdge: Enphase (ENPH), Generac (GNRC), Huawei and SMA Solar (OTC:SMTGY), however Generac's energy storage system is closed-loop and Huawei pulled out of the US market and is restricted from the US inverter market. SMA Solar offers a comprehensive software suite like SolarEdge but has a much smaller footprint in the US and larger in Europe. Enphase sells a microinverter platform exclusively which costs more vs. SolarEdge.
The other areas of competition include the following segmented solutions:
Energy storage solutions compete with products from global manufactures such as LG Chem (OTC:LGCEY), Samsung SDI (OTC:SSDIY), BYD (OTCPK:BYDDY) and Panasonic (OTCPK:PCRFY). In the UPS market, SEDG competes with global UPS providers such as Schneider Electric (OTCPK:SBGSY), Eaton (ETN) and Vertiv (VRT).
Vehicle e-Mobility/EV is dominated primarily by significant manufacturers, such as Robert Bosch (OTC:BSWQY), ZF Friedrichshafen , Dana Incorporated (DAN) and Magna International (MGA). As the global e-Mobility market expands, major automotive manufacturers, such as Toyota (TM), Honda (HMC), Tesla (TSLA), General Motors (GM), and Ford (F), have increased their investments in the electric and hybrid vehicle components in order to increase their market share.
Growth Opportunities
SolarEdge is exposed to multiple secular growth trends and has ample ability to capitalize on them:
Secular growth: By 2050, almost one-third of all global energy demand will come from renewables of which solar is expected to account for 17%. Energy consumption per capita is set to expand 16% by 2050.
Market consolidation: Competitors continue to leave the field like Huawei leaving the US and ABB selling its inverter business. Consolidation continues.
SolarEdge is pushing further into verticals built around its core DC inverter and optimization technology. The company is expanding into utility-scale solar building automation and UPS.
Continue to expand third-party battery compatibility for the residential market, while also developing its own batteries.
Smart energy suite controls Solar production, energy storage and grid interaction, and is designed to automatically use excess Solar power to increase self-consumption of solar energy and reduce energy bills and carbon footprints. The suite controls electrical loads such as, pool pumps, fans, lighting and other home appliances, is able to divert solar energy to heat water and also includes several accessories such as a smart energy socket and a smart energy switch. SolarEdge has plans to add the ability to control additional energy loads and is developing capabilities for the commercial segment.
Source: 2019 Investor Presentation
Cloud Monitoring & Data: The cloud‑based monitoring platform is continuously growing by the amount of data aggregated and SolarEdge is developing tools to accommodate this growth and further enhance their service offering. Specifically, they plan to increase data compression to enable support for a rapidly increasing number of field systems while using low‑cost equipment and to improve their reporting systems and enable users to obtain self‑generated customized reports. They also expect to expand algorithms that detect and pinpoint problems that can affect power production in field systems and to add more capabilities through their public API to allow users to build and integrate SolarEdge systems into their own systems and to allow users to build applications based on monitoring data gathered by SolarEdge software.
Valuation
We ran a 2-stage DCF model and found SolarEdge trades at a ~12.6% discount to fair value using the following assumptions:
Expected revenue growth for the next 2 years using consensus and to peak at 30% in year 5, consistent with a 22% CAGR over the next 5 years in line with TAM growth – then trailed thereafter to hit global GDP growth of 2% p.a. which implies a 10y CAGR of 19% p.a.
Terminal rate of 2.0% – above the current 10-year yield which is depressed given extraordinary market conditions.
We capitalize 50% of R&D expenses into an asset which will deliver future economic benefits. The asset is amortized over an assumed useful life of 3 years using the straight-line method. We capitalize operating leases and we explicitly value stock-based compensation options.
We value cash and marketable securities at book value. Our terminal Beta reflects the business shifting towards services and software over time and continuing to diversify geographically.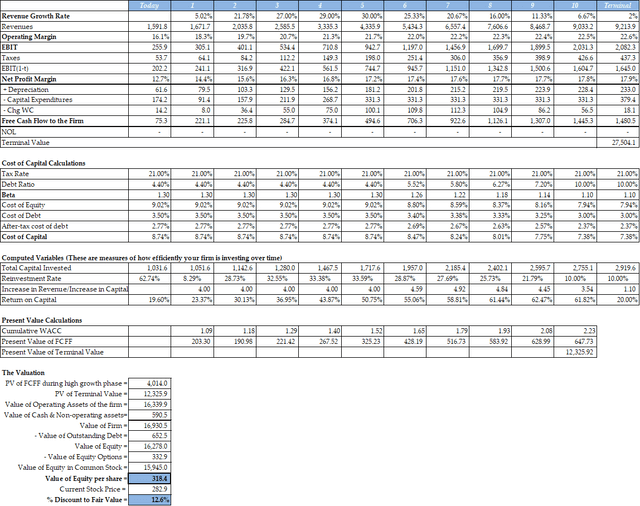 Source: Author's Calculations
Conclusion
We're a little cautious of the significant run-up in Solar stock prices due to the market pricing in significant infrastructure spending catalyzed by the Pandemic. Despite this, we believe SolarEdge is shifting its business model by building software and services on top of its core inverter technology, which can be expected to propel the next stage of the company's growth and profitability. Its technological lead over the competition is hard to replicate, and management are working hard to build a moat around it through sticky services and cloud software offerings.
Disclosure: I/we have no positions in any stocks mentioned, and no plans to initiate any positions within the next 72 hours. I wrote this article myself, and it expresses my own opinions. I am not receiving compensation for it (other than from Seeking Alpha). I have no business relationship with any company whose stock is mentioned in this article.
Source: https://seekingalpha.com/article/4381709-solaredge-next-edge