Solar panels power tennis and track center, reduce DePauw's carbon footprint
 
May 20, 2020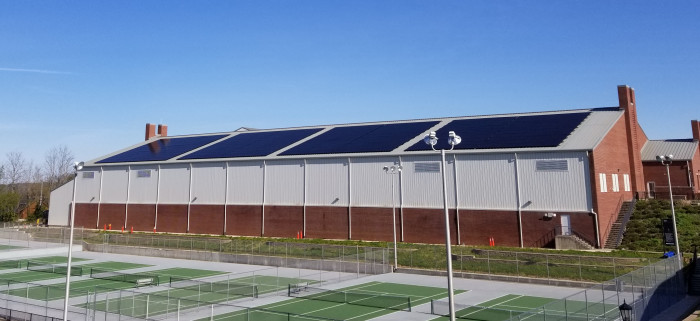 The roof of DePauw University's Indoor Tennis and Track Center now displays 860 solar panels, the campus's first renewable energy project and a step toward meeting the university's goal of becoming a leader in sustainable practices.
"This project will significantly offset our annual energy purchase requirements for our Indoor Track and Tennis Facility and reduce DePauw's carbon footprint," said Chris Hoffa, DePauw's director of facility operations. "Its campus location provides the greatest amount of solar resource and acts as a prominent exhibit of our commitment to sustainability for people visiting our campus farm."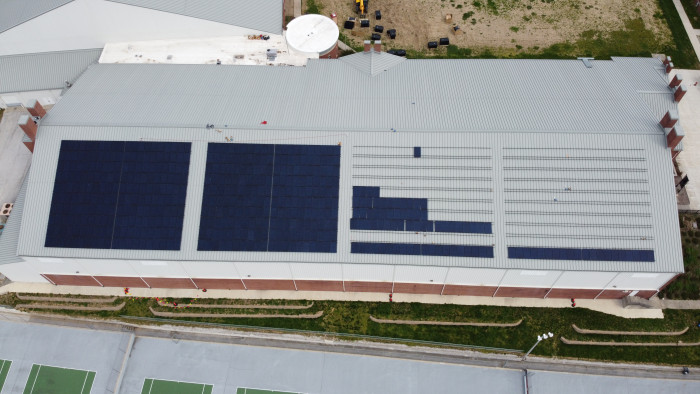 (The solar array during installation)
Spearheaded by Rick '76 and Jan Neville, the solar initiative celebrated the 10-year anniversary of the Center for Sustainability at DePauw. More than 40 additional donors gave toward the installation of the panels, which cost $460,000.
"Sustainability has existed in the spirits and actions of DePauw students for over a decade," said Malorie Garbe, DePauw's director of sustainability. "This solar array is a physical representation of our sustainability values as an institution and we can't wait to see more renewable energy features installed on campus for years to come."
Back Source: https://www.depauw.edu/news-media/latest-news/details/34613/