Solar panels and battery storage will soon be almost fully powering Mon Repos Turtle Center and Conservation Park near Bundaberg in Queensland.
The Mon Repos Turtle Centre is dedicated to marine turtle research, protection and education. The Park supports the largest concentration of marine turtles in eastern Australia and the biggest loggerhead turtle nesting population in the South Pacific.
The research facility, which attracts tens of thousands of visitors each year, is about to get a much greener electricity supply thanks to the installation of a 170kW solar power system (446 panels) and 400kWh of battery storage.
The Palaszczuk Government is investing $750,000 in the project, which will be installed next month. Once operational, it's expected to cover 97% of the centre's electricity consumption.
"More than 30,000 people visit the Mon Repos Turtle Centre each year – promoting the importance of protecting our turtles and injecting valuable dollars into the local economy – and very soon the electricity used to power the interactive displays, research and turtle encounters will be driven by solar energy," said Environment Minister Meaghan Scanlon.
The Mon Repos project is in addition to $1.5 million in solar upgrades to remote area power systems in several national parks throughout the state, which will collectively reduce operating costs by a whopping $10 million and avoid 12,000 tonnes of carbon emissions over their service lifetimes.
Climate Change A Bum Deal For Marine Turtles
Marine turtles including loggerheads will and are already being negatively impacted by climate change – and in some really unusual ways.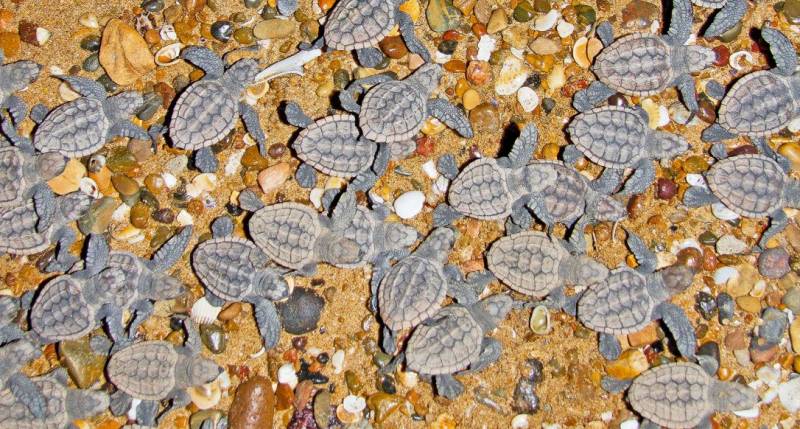 For example, changes in nesting sand temperature affects loggerhead hatchling sex ratios. According to the UN Environment Programme, a temperature of equal to or less than 28 ̊C results in males; 30 ̊C means there are equal chances of the turtle being either male or female; and equal to or more than 32 ̊C results in females. This could eventually result in a situation where there aren't enough males around for successful reproduction of the population. Nesting sand temperatures  above 34 ̊C pose another potential risk – it's thought to increase the probability of mutations in hatchlings.
Other climate change related threats to loggerhead turtles include increased extreme weather events eroding nests and a decrease in food supply coupled with an increased need to feed given the turtles are ectothermic ("cold-blooded"). The hotter they are, the higher their metabolism and the more they have to eat.
Added to all the other challenges these and other species of marine turtles face from human activity – such as starvation caused by ingestion of plastic bags mistaken for jellyfish and entanglement in marine debris – the future is looking pretty crap for marine turtles unless we turn things around quickly.
While it's wonderful the Palaszczuk Government is investing in this solar + battery storage project, the coal and gas situation in Queensland is anything but – and this installation will just be a tiny band-aid over a gaping and gangrenous wound.
Source: https://www.solarquotes.com.au/blog/solar-turtles-queensland-mb2023/