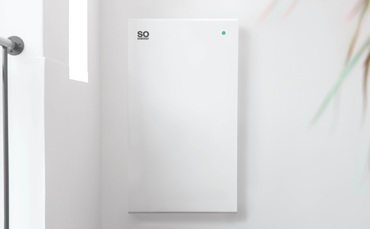 Householders and commercial landlords are in line to benefit from a step-change in the generation, storage and use of renewable energy in their properties, several announcements from energy firms this week suggest.
Energy supplier So Energy is offering a "first-of-a-kind" solar power and battery storage system to its customers, backed by an online service offering an instant quote on the money and carbon-savings they can achieve through the service.  
The system allows So Energy to remotely control consumers' batteries to optimise their use, utilising data on projected home energy consumption, weather forecasts, and wholesale prices, as well as the carbon intensity and capacity of the grid, the company explained.
It can then decide when to draw energy from the home battery, when to charge the battery, and when to sell electricity back to the grid to get the most competitive energy price for its customers. The firm claims consumers can save as much as 70 per cent on energy bills by using its system. 
"As the primary interface between energy consumers and the energy system, suppliers have a responsibility to do all they can to encourage their customers to make green choices," said Simon Oscroft, co-founder of So Energy. "And it's our job to make these choices as easy and appealing as possible."
The announcement came as Ofgem separately gave the regulatory go-ahead to a scheme launched by Emergent Energy, which the supplier claims could cut the cost of delivering net zero technologies for the housing industry by 25 per cent. 
Emergent has developed a "smart local energy system solution" connecting individual houses and flats with on-site net zero technologies on residential developments through a microgrid, it announced yesterday.
Such microgrids are operated by Emergent, which leases renewable technology from housing companies – including heat pumps, solar PV and electric vehicle chargers – and uses it to supply green electricity to and heating to on-site residents, it explained. Housing firms eligible for the offer include developers, homebuilders, landlords and social housing providers. 
"The ban on gas boilers for all new homes from 2025 and the requirement for all social housing and rented accommodation to be EPC C rated by 2030 will require the housing industry to spend hundreds of billions to drastically cut emissions from their housing developments," said Reg Platt, founder and CEO of Emergent. "Our integrated model provides a return on investment to housing companies and shares the benefits of the technologies across households that would otherwise not be able to afford it."
The 'Sandbox' scheme allows the start-up to trial innovation without risking censure from Ofgem, while provides a range of tools to innovators to eligible suppliers, generators and network companies, the firm explained.
Elsewhere, meanwhile, SP Energy Networks this week revealed it has developed a new tool designed to speed up the transition to net zero for heating the UK's homes. Dubbed 'Heat-up', the tool enables energy providers to utilise data from homes to predict future demand for low-carbon forms of heating, and can then estimate the size of heat pumps required to heat these homes, the network operator explained.
SP Energy, which has invested £129,000 in the Heat-Up tool, said it would also help governments and local authorities better understand the scale of investment required to meet the ambitious decarbonisation of heat targets that have been set, including the installation of up to 600,000 heat pumps per year in the UK by 2028.
Scott Mathieson, director of network planning and regulation at SP Energy Networks, said learnings from this project "will enable more people to switch to low carbon heating, which helps the environment and ultimately enables us to provide a more efficient service for customers and drive down costs".
Source: https://www.businessgreen.com/news/4032340/energy-offers-solar-battery-storage-service-customers