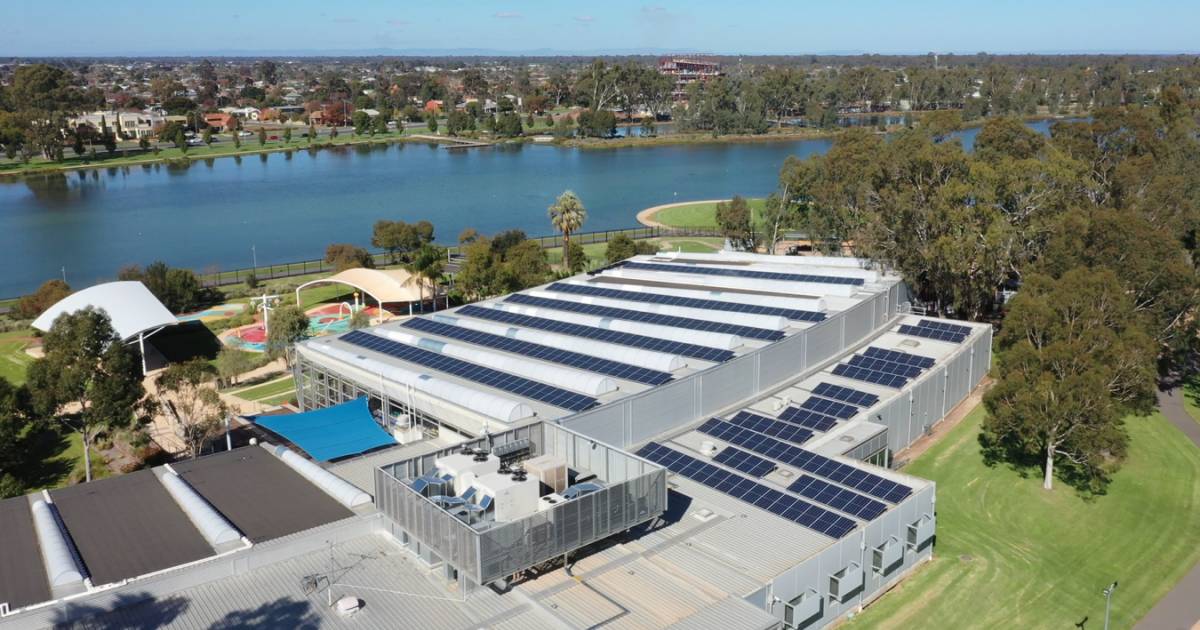 In Victoria, another two Greater Shepparton City Council facilities are harvesting the energy of the sun – Aquamoves and the Shepparton Saleyards.
Aquamoves (pictured above) is a council owned fitness and recreation centre boasting indoor and outdoor pools, spas, sauna and gym among its features. The facility is a significant energy consumer, but a recently installed 99kW system will put a big dent in its power bills. The other recent installation is a 55kW system at the Shepparton Saleyards.
Installed at a cost of $193,000 for both buildings by local contractor Watters Electrical, it's estimated the systems combined will save approximately $36,000 on electricity costs annually and simple payback will be achieved in approximately five years. After that period, the money saved can go towards other projects and services.
"The solar installations on our buildings are designed to reduce our dependence on fossil fuels while using the sun's free energy and the savings in electricity will mean greater service delivery for Greater Shepparton residents," said Council's Director of Sustainable Development, Geraldine Christou.
Among Shepparton Council's other PV installations:
Mooroopna Community hub – 56kW
Doyles Road  Council Depot – 99kW
Council's Welsford Street offices – 90kw
Shepparton Sports Stadium – 30kw
All these systems are playing a part in Council achieving its goal to decrease energy use and cost by 20 per cent over 2013/2014 figures by this year.
Greater Shepparton City Council also believes climate change poses a real and significant risk to its services, infrastructure and the community. In April this year, it declared a climate emergency and will target zero emissions – so perhaps we'll see more PV systems installed.
Solar Power In Shepparton
Beyond Council's installations, there's a bunch of other solar panels about the place. Council says more than 400 local businesses are currently using solar energy within the municipality. With commercial solar power payback so rapid these days, installing panels is a wise financial decision assuming a business has a suitable roof.
In Shepparton, solar panels are also a common sight on residential rooftops, with thousands of systems installed throughout the city saving their owners a bundle of bucks. For households considering installing panels, there are plenty of providers to choose from and currently there are 10 solar installers in Shepparton that are part of the SQ network.
In addition to small-scale home and business systems and larger scale commercial systems, developers of utility scale solar farms have also been attracted to the region; with approvals granted last year for Tatura East (45MW), Tallygaroopna (68MW) and Lemnos (100MW) solar farms.
Source: https://www.solarquotes.com.au/blog/shepparton-council-solar-mb1579/