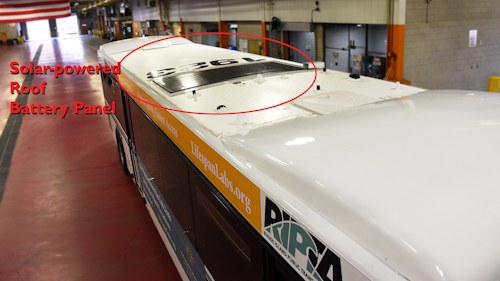 The roof-mounted solar panel weighs 19 pounds and is as thick as a couple of stacked credit cards.
RIPTA
The Rhode Island Public Transit Authority's (RIPTA) 33 new diesel buses will be getting an extra battery assist powered by the sun through a roof-mounted solar system.  
RIPTA says the cost-saving systems, manufactured by eNow Inc., are designed specifically for the transportation industry and will extend the vehicle battery life and optimize battery performance of the authority's GILLIG-manufactured buses.
"Equipping our RIPTA buses with solar systems is proof that smart investments in renewable energy benefit both the environment and our economy," said Rhode Island Gov. Gina M. Raimondo. "This program not only supports a cutting-edge clean technology company in Warwick but will help make commuting with RIPTA a more energy efficient option for riders. I look forward to continuing to make Rhode Island a leader in clean energy."
The authority spent more than two years working with eNow to test the system's use of solar energy to optimize battery life performance, resulting in more reliability when buses are started and less strain on the alternator throughout the day as the vehicles operate auxiliary systems such as on-board electronics. The solar energy is captured by lightweight panels installed on the roofs of the buses.
"It's been great working with eNow on this project," said Scott Avedisian, RIPTA CEO, "and we're very grateful to the Commerce Corporation for making funds available that help us save energy, time and money. This project is a win on many levels – we are working with the state to introduce alternative energy sources into public transit, we're partnering with a Rhode Island company and we're collecting data that will be helpful to others in the transit industry."
The roof-mounted solar panels are flexible to conform to the vehicle on which they are mounted, weigh 19 pounds and are nearly as thick as a couple of credit cards stacked together. RIPTA is the first public transit system in the county to add this system on a large scale, according to eNow President, CEO and Founder Jeff Flath.
"By adding eNow solar systems to their buses, RIPTA has taken center stage nationally and locally," said Flath.
About two-thirds of the project cost was covered by a $42,800 Rhode Island Commerce Corporation renewable energy grant through the Renewable Energy Fund (REF). The fund provides grant and loan opportunities for renewable energy technologies for commercial and public projects.
"The REF's mission is to provide grants for renewable energy projects that have the potential to produce electricity in a cleaner, more sustainable manner," said William Ash, managing director of Financial Services for Rhode Island Commerce. "eNow has developed an innovative technology that contributes to the reduction in vehicle emissions. Additionally, the project was aided by Commerce's Small Business Loan Fund to assist in the development of the solar panel and battery systems to be utilized in the RIPTA application."
RIPTA estimates the savings associated with maximizing battery life and performance will be more than $80,000 per year. Each of the new 2019 buses is equipped with two batteries, which cost about $365 each. With the eNow system, RIPTA notes it will need to replace batteries less frequently and will also save on costly road calls. Avedisian said that RIPTA will explore the feasibility of having the panels installed on more buses in the future.
Source: https://www.masstransitmag.com/bus/vehicles/gas-diesel-cng-lng/article/21121155/ripta-buses-mounted-with-solar-panels