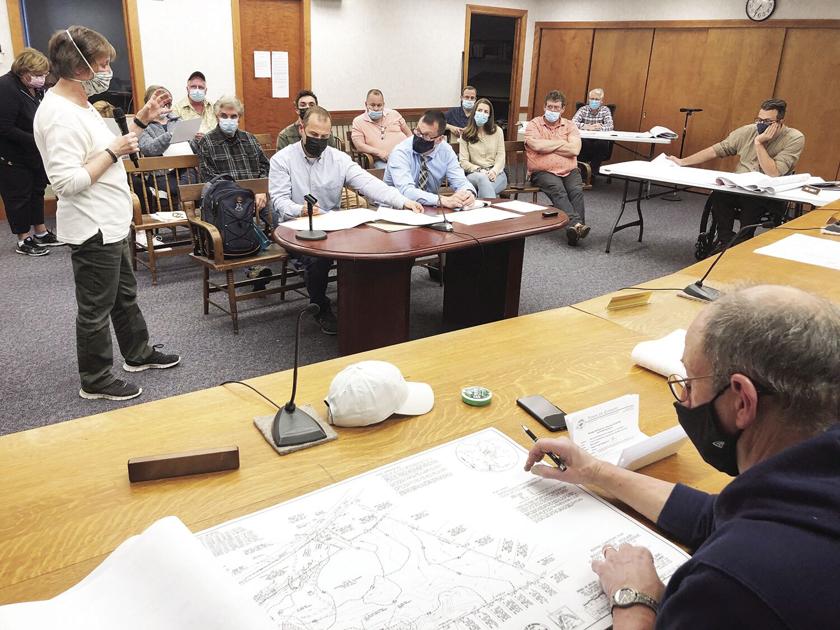 CONWAY — Although several abutters and nearby residents expressed viewshed concerns, the Conway Planning Board granted unanimous subdivision and site-plan approval at its May 13 meeting for a 1 megawatt photovoltaic solar array at 2069 East Main St.
The 41-acre property on the south side of Route 113/302 in Center Conway just east of the bridge reconstruction project, is owned by Mary Jane DiGregorio, mother of former Selectman Mike DiGregorio of Conway, who is owner of Solar Conserves, which acts as a go-between for landowners and solar companies.
The project is located at tax map 259, lot 104.
Michael Redding of New England Solar Garden Corp. of Portsmouth, director of engineering for New England Solar Garden Corp./GSSG NH, and engineer Adam Sandahl of CMA Engineers of Portsmouth presented the project at the meeting.
They said with environmentally friendly, mesh-backed knot wire fencing and vegetative buffers, the facility will be mostly screened — although abutters were skeptical, including Al Hannon, Jim and Donna McAllister, Chery Greer and Gail Palladino, all of whom spoke during public discussion.
"I bought my residential property for a reason. Putting a commercial solar project in a residential array? I'm not turned on," said Hannon.
Under Conway's solar zoning amendment passed last year, commercial arrays such as this one would be allowed via special exception in residential/agricultural districts with a 50-foot buffer.
Redding said his company is working to ensure it will be mostly shielded and people would not notice it unless they knew it was there.
"We feel that we've right-sized this project, putting it in kind of the back section of the lot as far as we could," he said.
"And then while a 50-foot buffer was required by the town's solar ordinance, we decided to go to 100 (on the eastern side of the property where  most abutters are located," Redding said.
Mike DiGregorio sat in the audience but did not speak.
As part of the board's actions, the property was subdivided into two lots — a 4.6-acre lot for Mary DiGregorio, including her house and garage, and a 35.8-acre lot for the new solar array.
The array will have four 40-foot utility poles, starting with a pole at the roadside. It will be accessed via a gravel roadway to be built from Route 302 to the array, which is to be located about 550 feet from Route 302.
The array will consist of 3,456 solar panels with 13 rows of panels facing south at a fixed tilt with the panels situated with the front edge of the panels 3 feet off the ground and the back edges 10 feet off the ground on average.
Abutters had expressed similar concerns about sight lines when the project received its special exception from the Zoning Board of Adjustment on Feb. 17.
That led Redding to propose adding arborvitaes at the planning board meeting. After further input from the board and the public about aborvitaes not being hardy enough and attractive to deer as a food source, Redding pledged placing more trees along the east and north sides.
Redding told the Sun in a follow-up interview that engineers also have agreed to change the distance between the four utility poles.
"The first pole will be located 100 feet from East Main Street/Route 302, and the second pole will be 250 feet from East Main with three poles spaced 50 feet apart on the lot on a gravel access road," said Redding.
Concerns about solar panel glare were also raised by some, including planning board chair Ben Colbath. Redding said those glare issues were common in the early 1980s but is no longer a factor due to equipment upgrades.
Under current New Hampshire law, solar companies are allowed to sell back to grid up to 1 megawatt of power as legislation to increase that amount to 5 MW have failed in the past but there is word that the Legislature will act on a new proposal to increase net metering to that amount in June.
Valley Vision Channel 3 videotaped the meeting and has been airing it on television and at valleyvision.com.
The latest project joins two others brokered by DiGregorio and engineered by Redding's company — the others are the 1-megawatt Fadden solar array  on Green Hill Road and an approved but not yet built 1 MW project on Morrill property in Center Conway, also on the south side of Route 302.
A totally separate project, which dwarfs these by comparison, is the East Conway Solar Project proposed by Olivewood Energy, will be a 110 MW-AC solar farm that selectmen were briefed on in April.
That project would cover 355 acres within fenced areas on parcels totaling 1,000 acres. The land is owned by three local families: the Westons, the Garlands and the Woodwards.
Construction would begin in 2023 and be done in 2024.
Source: https://www.conwaydailysun.com/news/local/planning-board-approves-center-conway-solar-array/article_c74fda8a-b8f6-11eb-b742-4f79424f8ee4.html