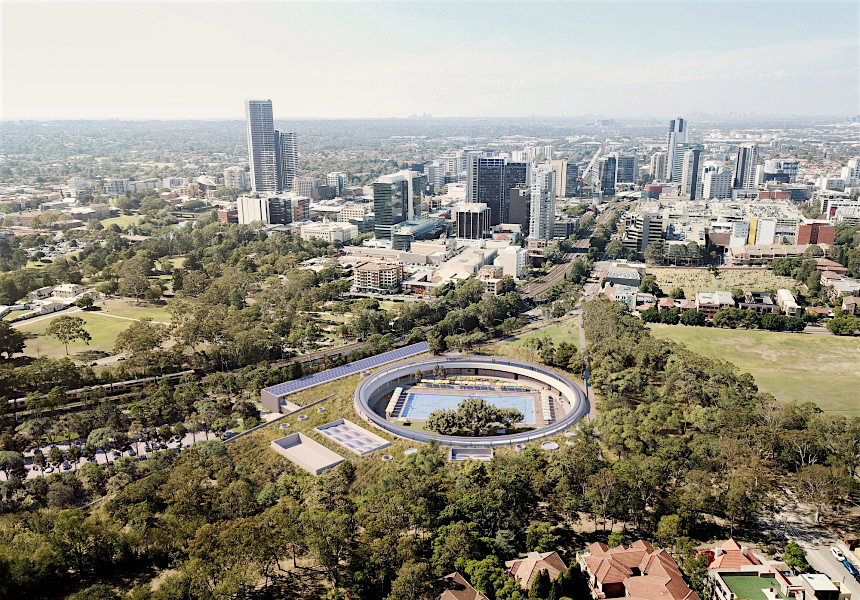 Sydney's second city, Parramatta, is set to get a new state-of-the-art aquatic centre. The 40,000-square-metre, $88.6 million facility is slated to launch in 2023 at the Mays Hill Precinct in Parramatta Park. It will encompass a 10-lane, 50-metre heated outdoor pool for competition and lap swimming, school swimming carnivals, and water-polo training and competitions; an eight-lane, 25-metre indoor pool that will be used for everything from lap swimming to swimming lessons and rehabilitation programs; and an indoor learn-to-swim pool.
Other facilities will include an indoor water playground; a fitness centre with a gym and rooms for yoga and circuit classes; and a spa plus sauna and steam rooms. A cafe with indoor and outdoor seating will also be installed, as well as 197 parking spots. Visitors will be able to relax in outdoor park spaces between dips or while watching others swim.
More than 500 trees indigenous to the local area will be planted to provide shade, and solar panels will be installed on the roof, generating around 42,000 kilowatts per year – more than 20 times the energy used by the average Australian home. The centre is jointly funded by the City of Parramatta and the NSW Government.
"Parramatta deserves a pool which caters for competition, learn-to-swim classes, recreation and relaxation," Parramatta MP Geoff Lee said at a press conference. "This aquatic centre will be the envy of communities all over the state. It will be a complex with versatility designed to meet the needs of Parramatta now and in the future, for decades to come."
Parramatta's new aquatic and leisure centre is expected to open in early 2023.
Source: https://www.broadsheet.com.au/sydney/active/article/parramatta-getting-88-million-aquatic-centre-three-pools-water-playground-spa-sauna