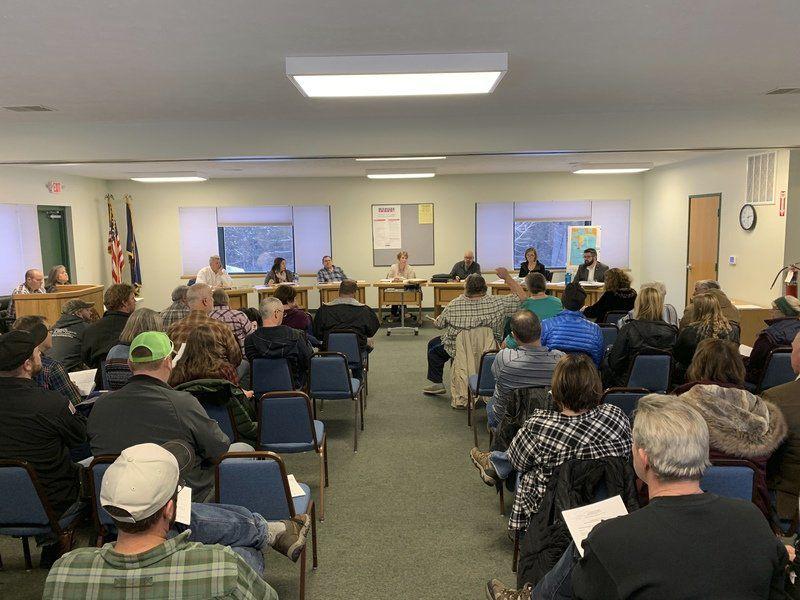 KINGSLEY — Government acted quickly after dozens of solar energy proponents descended on a township meeting.
Paradise Township Planning Commission members unanimously voted both to loosen proposed restrictions on utility-scale solar systems and to send the suggested zoning change to the full township board for consideration. Planning commissioner Gerry Olson recused himself from the discussion and both votes because he intends to pursue solar energy business, he said, should such facilities be allowed in the township.
More than 50 people packed into the township hall for a public hearing Thursday evening on a proposed zoning ordinance amendment regarding large solar panel installations, filling nearly every seat in the house.
"Obviously, this is a topic that is a hot-button issue in our community," said Max Anderson, planning commissioner.
A majority of those who spoke during the public hearing said planning officials should establish rules that encourage the renewable energy installations, something repeatedly argued was not the case with initially proposed acreage and setback regulations: minimum 40 acres, 100 feet from road right-of-way, and 400 feet from any existing dwellings, among others.
"Make the guidelines so they will bring their money here and not take it somewhere else," said Jim Camp, township resident.
Camp said he would much prefer to see solar installations built than huge subdivisions, low-income housing projects or even industrial livestock operations. Bill Slater, another township resident, said he agreed solar panel projects were preferable to a "bunch of subs" being built.
Township resident Jesse Barnhart said he, too, supports the prospect of solar field projects.
"This is the greatest thing we could have for this community," Barnhart said. "Don't choke it out with this ordinance."
A few also spoke in favor of the proposed restrictions on big, solar panel installations, including township resident Don Flegel, who said he supports tough setback rules.
"If you want sprawl, this is sprawl," Flegel said at the hearing.
During a meeting intermission he added: "I like solar, just not in this way."
Jennifer Hodges, planning commission chairwoman, reminded the crowd that no landowners have applied for specific solar projects and the hearing was to sort out zoning rules that would apply to any such future proposal.
It was no secret to anyone in the room, however, that Tony and Gail Weber hope to sell their land for a utility-scale solar farm and they came to defend renewable energy.
"I'm trying to keep this rural. Some people's definition of rural is different than mine. My definition of rural is no people. If I didn't have any people I'd be happy," Tony Weber said, later becoming tearful as he spoke about the possibility his solar plans may be quashed by zoning rules.
Gail Weber said their disabled status prevents the couple from continuing to work as cattle and cash crop farmers and they don't have any family members to whom they can leave their farm. That's why they've opted for solar panels to help financially secure their retirement, she said.
Tony Weber said he began to investigate what it would take to develop small solar installations last year, but eventually was approached by North Carolina company SunEnergy1, among the nation's top solar energy businesses. Weber said he's been in talks with the firm since last March, and between his acreage and any available adjacent property, the hope is to sell to the company so it can build a minimum 400-acre, utility-scale solar farm.
"They need a main transfer line and acreage to boot right in that spot," Weber said, and he said his land in Paradise Township is practically perfect, with a main transfer line running across his property.
Tony Weber said he doesn't understand those who want to prevent this renewable energy option after hearing concerns from some at Thursday's public hearing. He argued change will happen whether or not his neighbors like it, and renewable energy seems a good and sustainable option.
"One lady complained (the company is) from North Carolina, but she's from Indiana or Illinois," Weber said. "I've been dealing with people moving in for years."
Weber said a housing developer also expressed interest in his family's land with hopes to build around 12 house per year. "That's probably an option I'll go to if I can't do this," he said Friday afternoon.
Robert Whims, planning commissioner, said during Thursday's meeting he believed proposed rules for utility-scale solar projects should be eased, including a drop in minimum acreage from 40 to 20 acres, and a change in required setback from homes from 400 to 200 feet. His suggestion was unanimously adopted before the commission then voted to send the updated zoning amendment on to the township board for final consideration.
Paradise Township Clerk Lisa Gulliver said the proposed zoning amendment will be sent to the township board as soon as possible, perhaps with another public hearing to be scheduled in April.
Source: https://www.record-eagle.com/news/local_news/paradise-township-considers-solar-field-zoning/article_7a00640d-1df4-530f-8a7d-7c8182996c8c.html