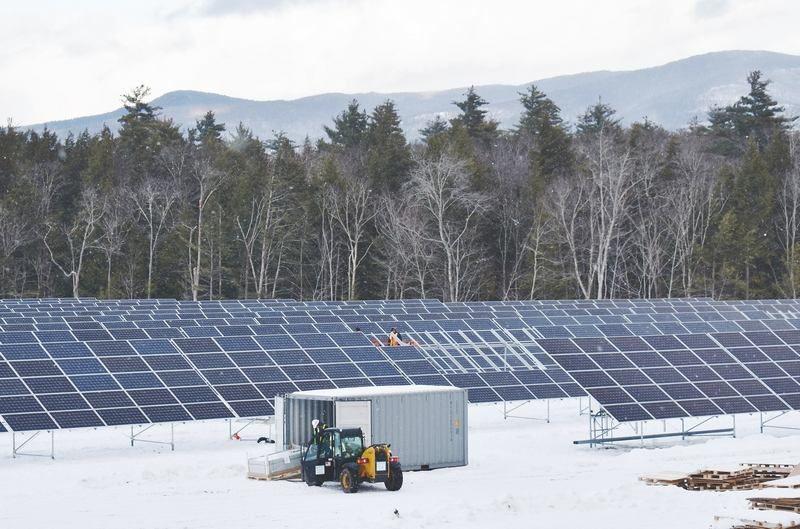 New Hampshire lost 261 jobs in the solar energy industry in 2018, the second straight year of decline, according to a new report due out Tuesday.
The state had 890 solar-related jobs in 2018 compared to 1,051 in 2017, a 15 percent decline, tied for the fourth worst among the states, according to the report, National Solar Jobs Census 2018 by The Solar Foundation.
The solar industry also shrunk nationally, by 3.2 percent or 8,000 jobs, in 2018.
The report cited uncertainty over 2018 tariffs involving China and state policy and economic challenges in general.
New Hampshire also lost 133 jobs in 2017 over 2016, according to The Solar Foundation.
Michael Behrmann, director of business development for Clean Energy NH, which promotes clean energy and technologies, said uncertainty over state government policies means it "can be real difficult for solar providers to be able to manage that change."
He cited net metering legislation.
Last September, Gov. Chris Sununu vetoed a bill that would have expanded the state's net metering program, which requires utilities to buy electricity from solar energy generators at retail rates.
The bill would have raised qualifying solar installations from 1 megawatt to 5 megawatts, providing a bigger financial incentive for larger projects.
Behrmann said more companies and municipalities are seeing the merits of solar, but those are more complicated projects compared to residential installations, meaning they take longer and potentially affected worker totals in 2018.
ReVision Energy, a solar developer and contractor with a Brentwood office, said it expects better sales this year.
"We expect 2019 to be our best year ever as a company," said James Hasselbeck, its director of operations. "The combination of falling solar equipment pricing and increasing utility electricity rates is a powerful motivator."
ReVision Energy increased its revenues by 25 percent in 2018. It also hired 11 people in New Hampshire alone, a 15 percent increase.
He called last year "a particularly tumultuous year" for the solar industry.
Tariffs "increased the costs of solar panels which resulted in fewer projects being sold and installed," Hasselbeck said. "The majority of job growth opportunity in the New Hampshire solar industry is in the sales, design, engineering and installation side of the business (not solar panel manufacturing), all of which were negatively impacted by the trade tariffs."
People last year "also seemed to be a bit more cautious with making investments in their homes or businesses and financing rates started to creep up, slowing construction across all factors.," he said.
Residential solar projects can cost more than $15,000, Behrmann said. They are eligible for a 30 percent investment tax credit.
Solar companies also compare states' renewable portfolio standards that power companies must reach by a certain deadline, looking for those requiring more solar or renewable energy sources, he said.
Source: https://www.unionleader.com/news/nh-loses-solar-jobs-in-report/article_1cc169d9-2070-56f2-90ce-5c6e59eeaa14.html?block_id=664693