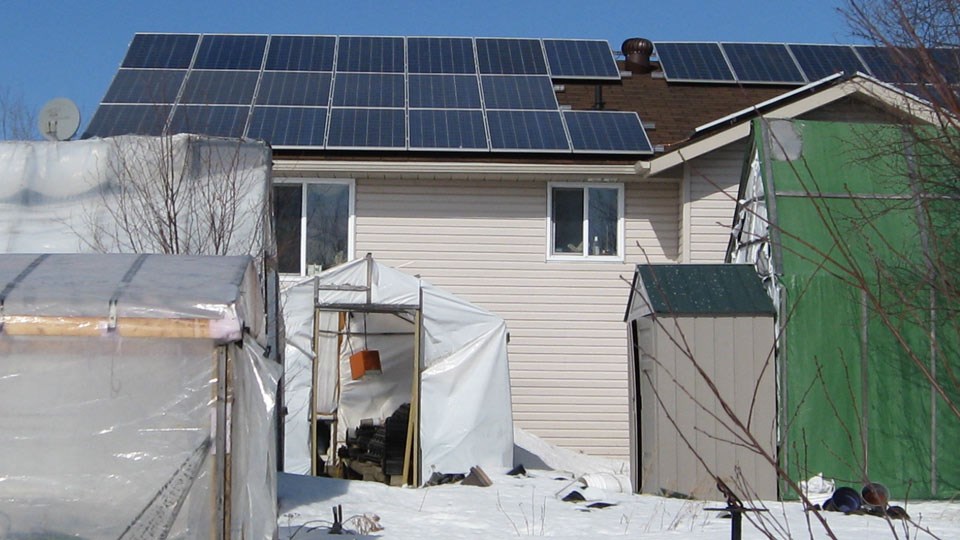 Thirty-three roof-top solar panels meet and often exceed the power requirements for Stuart McCall's home and farm near Garson. 
Hydro costs are net zero, which McCall explains is a big help for a marginal business like farming. The capital investment was recouped in six years, and maintenance costs have been negligible. Â 
McGrows Farms is a member of the Ecological Farmers of Ontario with a mandate to reduce greenhouse gas emissions from farming. "It made sense to install solar power," McCall said.  
Near downtown Sudbury, Bill Crumplin installed 16 rooftop solar panels to meet his electricity needs. "I decided to install solar panels on my home's roof because I am serious about reducing my carbon and ecological footprints," Crumplin explains.  
Like McCall, Crumplin is part of the net metering program. 
"This means that I receive credit for each kWh I supply to the grid at a pre-set price and, for those times when I need power from the grid, I pay that same pre-set price," he said.  
"Any surplus I provide to the grid is credited to my account and I have up to 12 months to use it. I have not had to pay for electricity from the grid since April, 2019." 
Crumplin found the installation by a local business straightforward. 
"The various steps included getting an engineering report to determine my roof could hold the extra weight, receiving approval from GSU that my neighbourhood grid could handle the electricity my system would add, waiting for the panel installation crew to get to my project, and waiting for the electricians to hook the panels to my home's electrical system," he shared. 
In a net zero Sudbury, home renewable energy systems will be the norm. Greater Sudbury's draft Community Energy and Emissions Plan (CEEP) states that in 90 per cent of new buildings, and 80 per cent of existing buildings, half of the energy used will be produced by renewable energy on the building itself.  
According to the National Energy Board, many Ontario residents can expect to save money by installing solar energy. These savings will only increase as the costs of renewable energy continues to fall. Already, green energy can compete on cost with fossil fuels and will soon be consistently cheaper.
Upfront costs can be a barrier for residents. McCall feels incentives should exist from all levels of government to make renewable energy more accessible. Another model is for building owners to lease roof space to a solar business or co-operative. This allows residents to generate renewable energy on their property and be paid for it, without investing in equipment. Â 
Renewable energy will be produced in local solar farms as well. CEEP proposes to install 10 MW of ground mount solar PV each year, starting in 2022. SUN Co-operative expects that their 500KW solar project near Estaire will be completed this spring. Â 
Len Wiseman, secretary of SUN Co-op identifies costs, cancellation of the Fit and Microfit programs, and capacity of the electrical grid as challenges for the larger projects recommended by CEEP. Â 
"Renewable energy becomes more or less feasible depending on financial incentives, available land and infrastructure, public interest and other factors," said Jennifer Babin-Fenske of EarthCare Sudbury. 
"The city looks forward to working with the community to find innovative solutions and initiatives regarding renewable energy."
Remaining energy needs will be met by renewable energy from elsewhere. With CEEP, Greater Sudbury joins many communities in Canada and around the world in setting a target of 100 per cent renewable energy. Â 
Six American cities are already meeting this target, and can generate revenue from the sale of extra energy. Generating local energy and supporting renewable energy not only reduces carbon emissions, but also increases local energy and financial security.
You can do your part by reducing your energy use, installing renewable energy, purchasing renewable energy or investing in renewable energy. 
Naomi Grant, on behalf of Coalition for a Liveable Sudbury
Coalition for a Liveable Sudbury is a grassroots group of citizens and community groups who share a vision of Sudbury as a green, healthy and engaged community. For additional information on some of the rooftop solar projects in this column, and on a net zero future for Greater Sudbury, see the organization's website. 

Source: https://www.sudbury.com/columns/guest-columns/net-zero-installing-solar-panels-on-my-roof-just-made-sense-says-garson-farmer-2194258