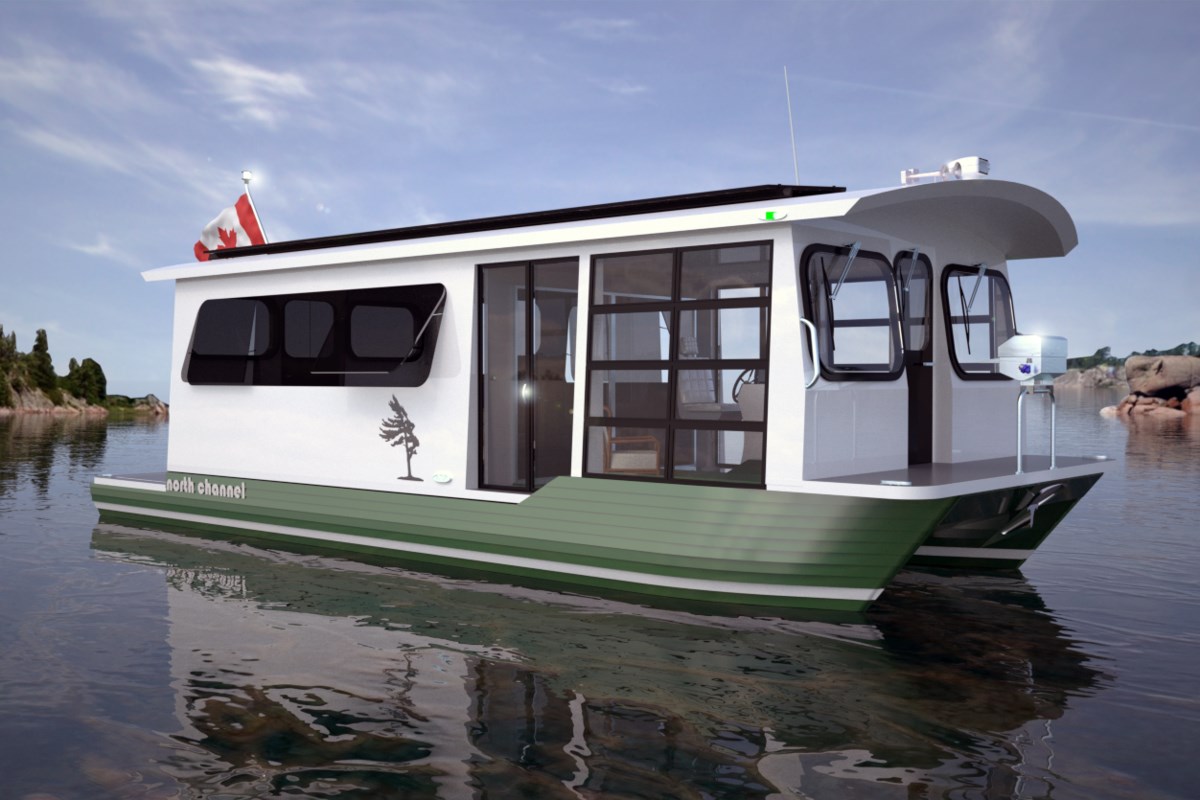 The North Channel CabinBoat Company has announced that Henley Boats in Manitowaning, on Manitoulin Island will be constructing 10' x 30' catamaran coastal cruisers.
The use of roll-form lapstraking provides increased strength and allows for lighter aluminum panels, thus saving weight. It's also more attractive esthetically than slabsided boats, and as an added bonus the strakes deflect water away from the interior.
The thirty was designed from the keels up with an older demographic in mind, specifically for bareboat chartering in the North Channel of Lake Huron and Georgian Bay, where it's mostly sheltered but can get rough quickly.
It will be an easy boat to drive with a single SUZUKI 115 hp outboard, easy to dock with proportional bow and stern thrusters controlled by a joystick, plus it's equipped with a safe and secure ladder system for re-boarding swimmers from the water, said a press release from the company.
The thirty will be eco-friendly and energy-efficient, with up to 3,000 watts of solar power up on the roof, combined with Victron Lithium-Ion batteries, all designed by Jason Blier of FSA Solar and Graham Morfitt of Modern Outpost, and Michael Murray.
"On-board equipment will include a 9.1 ft3 fridge with bottom freezer, a diesel-fired tankless on-demand water heater coupled with fan-driven space-heating outlets, a two-burner propane cooktop and a BBQ on the foredeck, a microwave-convection oven, plus lots of Galley counter space that incorporates a double

stainless-steel sink," said the press release.
"The generous-sized head has a bidet electric toilet, and a 30" x 32" stand-up shower stall – all the comforts of home!"
A 3.5 KW diesel genset will be installed under the swim deck. The company said it is confident, with 3,000 watts of solar panels, that it will rarely need to be turned on – the electrical system is designed to sustain up to four days with no sun.
The Muskoka room up in the bow has four-track sliding and stackable vinyl windows, with patio-style marine doors on both sides that let in lots of light and refreshing breezes. Screens on every opening window, hatch or doorway prevent bugs from entering.
Although the boat was created for chartering in the North Channel, where the company plans to have six boats in our fleet, it will also be offered for sale to the general boating public on a semi-custom basis.
The project has been partially funded by ELNOS — the Elliot Lake and North Shore Corporation for Business Development.

Source: https://www.sudbury.com/around-the-north/manitoulin-island-boat-producer-to-build-solar-powered-catamaran-cruisers-3833119