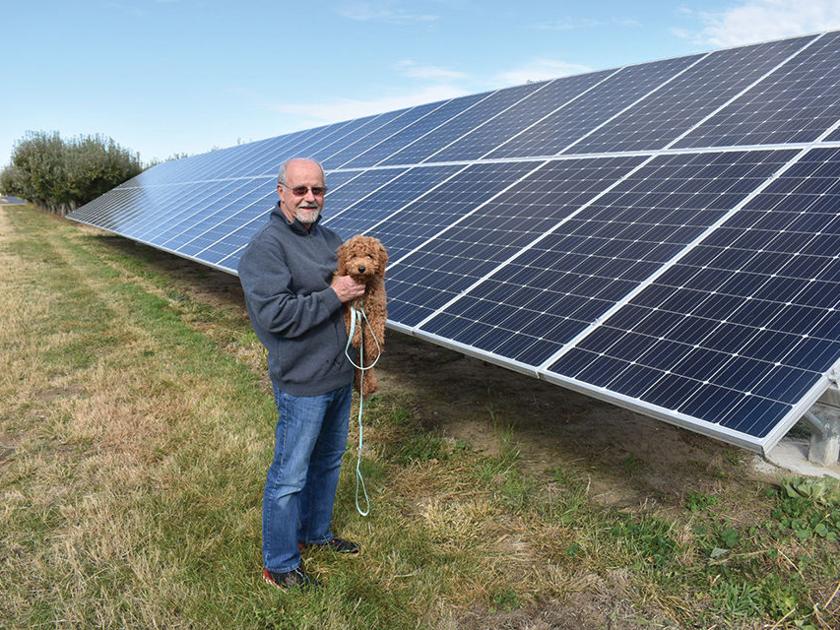 Despite the Pacific Northwest not seeing as many sunny days as Southern California each year, more and more people in this area are finding that there is enough sunlight here to warrant fitting their homes with solar power.
As a way of demonstrating this possibility, farm owner John Oglevie opened his home to tours on Oct. 5, as part of the National Solar Tour.
The Tour is organized by American Solar Energy Society and Solar United Neighbors, and is sponsored by the Idaho Organization of Resource Councils, which seeks to advocate for responsible stewardship of Idaho's natural resources, and the Weiser River Resource Council, a group of concerned citizens dedicated to the preservation of rural communities, family farms and ranches, safe and sustainable food systems.
Oglevie was not compensated for opening his system to tours, being strictly voluntary.
'ÄúMy goal is to try to educate and encourage people to install solar systems by showing them my system, then show them information on how it has performed for me over the past two years,'ÄĚ he said.
Oglevie owns a 20 kilowatt system with 32 panels, which he installed in late 2017. The panels are attached to a fixed structure on the south side of his apple farm, taking up just a small section of his land.
With 15 years of experience as an electrician, Oglevie said he believes going solar was the right choice, as the time and market is right for such.
'ÄúThe reason I went into it is because I was looking at clean energy options; I wanted to try and contribute to [electricity] generation and to reducing CO2, and I had the space and the opportunity.'ÄĚ
Most months, Oglevie says his system generates enough power to bring his bill down to just a $5 connection fee most months. He does have to buy some power for cooling his house in the summer, but that doesn't bother him.
'ÄúThey supply all the power I need, plus more. So it'Äôs good for the grid,'ÄĚ he said.
Despite the prospective independence solar can bring, Oglevie said he installed his system to merely supplement what the grid provides. This coupled with the cost of maintaining batteries is why Oglevie doesn't keep any batteries.
'ÄúI'Äôm a firm believer in the grid, not independence from it. Because if my system fails, I'Äôd need a backup source to keep my farm going; Even my neighbor has about twenty-five to thirty kilowatts, so if my system fails there'Äôs no way for them to help me without that grid.'ÄĚ
Even on cloudy days, Oglevie pointed out that his system is still able to produce electricity because his panels are able to use ordinary light as well as ultraviolet rays.
'ÄúIt produces about eighty percent of its capacity in winter,'ÄĚ says Oglevie. 'ÄúSnow slides off. My biggest problem is the birds come in and sit on the top of it, but we get enough rain to wash [it] off. Occasionally I'Äôll come down and wash them myself.'ÄĚ
When it comes to initial investment, Oglevie reminds readers that many sorts of panel layouts and financing schemes exist to help homeowners go solar.
'ÄúWhat they really need to do is get an estimate, based on their individual situation,'ÄĚ he said.
Source: https://www.argusobserver.com/independent/features/local-farmer-opens-his-home-solar-system-as-part-of/article_ddab3708-eaa2-11e9-9e71-33e849ee9d37.html