For many off-grid portable solar power applications, the weight of the equipment is not critical. The family that enjoys camping adjacent to their recreational vehicle does not care if their power equipment weighs 50 or 250 pounds.
Conversely, the long-distance backpacker in Nepal, the high-altitude mountaineer who spends weeks on Mount McKinley in the Denali National Park in the Alaska Range, and the medical crew that travels by horseback miles into the Amazon jungle is very concerned about weight.  There was a time when solar panels were heavy, and when the only batteries available were heavy lead acid units.  The emphasis was not on weight.  With the advent of compact portable electronics that facilitate a mobile lifestyle, outdoor enthusiasts demanded compact lightweight methods to keep their mobile devices charged.  The demand for lightweight power solutions drove technology to develop lighter-weight portable solar panel and lithium batteries, and the USB industry.  What used to weigh 20 pounds and occupy a cubic foot of space could now weigh 5 pounds and occupy one-eighth the volume.  The industries of lightweight portable solar panels, foldable, flexible, and thin-film, and those of lithium batteries exploded worldwide.
In 2008 when Powerenz was approached for a 'Äúlightweight'ÄĚ portable solar power solution to provide electricity for a CPAP machine during a rafting adventure on the Colorado River, the solution was heavy.¬† A lead acid battery, simple and waterproof, weighed close to 20 pounds.¬† A waterproof fold-up solar panel had an efficiency of 8%, and weighed over 6 pounds.¬† The waterproof enclosure, additional electronics, and cables added another 8 pounds.¬† Thirty-five pounds of portable power that worked was not an option for backpacking.¬†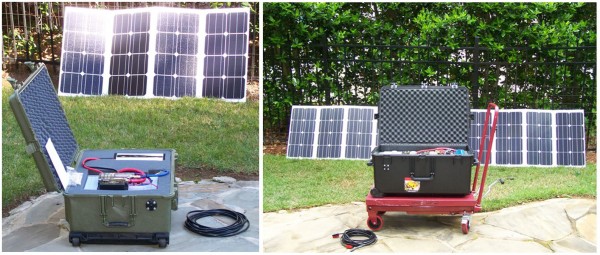 Over time, the science of lithium batteries exploded, and the efficiency of solar panels increased to almost 23%.  Portable solar panels are lighter-weight and have smaller footprints.  Lithium batteries are lighter-weight.  Thirty-five pounds of portable solar power is now a 15-pounds.  For the user who does not need to operate a CPAP machine for 8 hours per night, but needs to charge their communication radios, GPS, digital cameras, cell and sat phones, scientific instruments, tablets, and flashlights, even 5 pounds of power gear seems heavy. 
For fire jumpers who parachute into regions where there are wildfires, and work to control and end such fires, Powerenz designed two lightweight portable solar power products.  One product recharges mobile USB devices only, includes an 18%-efficient portable solar panel, and a heavy-duty, waterproof, shock-resistant, dirt-proof, lithium battery, and a lightweight, water-resistant enclosure.  That product weighs 1.7 pounds.  With a newer and lighter portable solar panel, it will weigh 1.5 pounds.  The other product like portable solar charger provides power for all of the USB and 12-volt DC devices that the fire jumpers use in the field, and weighs 2.5 pounds.  We expect this product to weigh 2 pounds in the near future.
About Us:
Powerenz has kept pace with advances in the technology of portable solar power and portable solar panels.  Our lightweight systems are efficient, durable, and desirable for off-grid applications where carry weight is limited.
Media Contact
Company Name: Powerenz
Contact Person: Barry Renz
Email: Send Email
Phone: 770 639 2244
Address:1339 Marietta Country Club Drive NW
City: Kennesaw
State: GA
Country: United States
Website: https://www.powerenz.com
Source: http://www.digitaljournal.com/pr/4818339