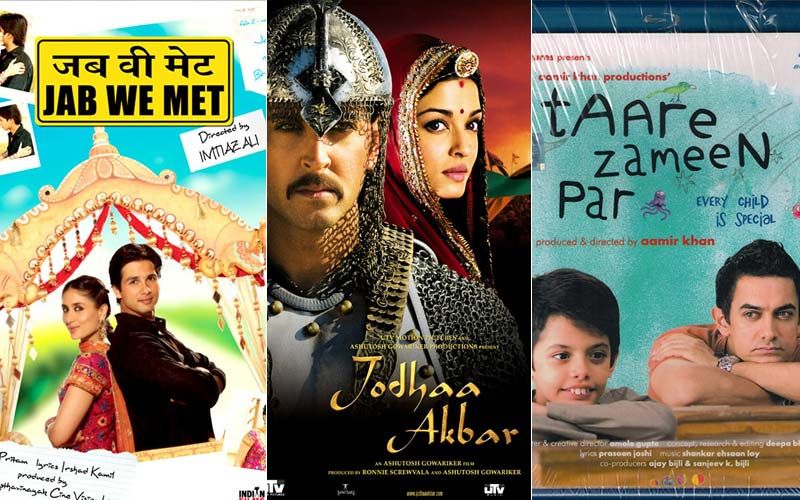 Jab We Met (2007):  In a  tailor-made salwar-kameez clad role, Kareena Kapoor Khan playing a boisterous Sikh girl on  her way to tell her parents  about her boyfriend meets up with a brooding suicidal  jilted entrepreneur. The  sparks fly instantaneously ….or should that be, infinitely…..since  the  sparks tend to fall  in volumes  of  ignited light all across the film's incandescent  horizon creating a  briskly  moving  screenplay that looks straight  into the heart.A  chance  encounter between two people  on a train is not   the most novel of cinematic   ideas. The surprise element in Jab We Met is, that there is no surprise. Director Imtiaz Ali, displaying a deft and  lucid  command   over his material and actors,  lets  the boy-meets-girl story take  its own course without pushing  for effect.
The vignettes  on  the  trains and off them look   so lived-in you could reach your hand and touch Aditya and Geet's  glowing relationship  in the small  towns of  Punjab and North  India.The dialogues  flow  in  a  steady stream of  vocalized  thoughts. No one   here  is trying to be  clever. Not  a  single shot    in  Jab We Met   strives  for  effect. There's an element of inevitability  in  the flow of  satiny emotions.    Kareena's insouciant  warmth just bathes  the screen in voluble splendour. She   proves  once again that when  she  puts   her heart to it, she's quite simply  the best. In the second-half she depicts   the external ruins of a broken heart with eyes  that seem  to have  shed their light while we were not watching.The director invests a whole lot of quiet  moments between the couple.  These are handled with  a mellow maturity  that defies  the  overall lightness  of  the romantic-comedy genre.Shahid is right up there , furnishing a raga of restrain to  his    role of a  man  just waiting to come  out of his shell.
There're many reasons apart from Kareena  and Shahid why Jab We Met is a  special film. The narrative moves with serene  swiftness through  several cities towns and locales giving  the  lead couple a chance  to get to know  each other and their mutually-shared environment of some hostility and immense cordiality.  Cinematographer S. Natarajan Subramaniam's camera caresses the snow-capped mountains in Himachal  with as much affection as  the  embers   in Kareena's eyes.Yes  the never-ending  Dilwale Dulhaniya Le Jayenge festivities in  the heroine's Sikh bustling  household get oppressive beyond a  point.  And  the imminent   yes to  the romantic mess is unnecessarily delayed, with Tarun Arora's  duffer-fiance's act  making you   wince and  fidget  in  your seat.But by the time  Shahid and Kareena  get into  a  clasp for a farewell kiss  we are cheering  the couple as  though  Valentine's Day had been  invented for this occasion. Heartwarming  in its sincerity and utterly  wedded  to  the feeling of  romantic integrity, Jab We Met  is  the kind of cinematic  experience  that  is hard to come by in this day and  age  of  smoky cynicism and borrowed  rage.
Taare Zameen Par(2007):  Taare Zameen Par  explores   the bewildering  labyrinth  that  traps a  child's mind in a state of unfinished ecstasy and enforced anguish. There have been significant films  from India  that look at a  child's world from inside, likw  Satyajit Ray's  underrated Pikoo and   Santosh Sivan's Halo. But  if  you look at Aamir's deceptively simple narration,  the  double vision whereby  we see the  sensitive child's cloistered and  chaotic world  from his perspective as well as from an adult  perception, has  its roots  in Ray's Pather Panchali.
'Writer and creative-director' Amol Gupte brings Ray's  Pather Panchali  into  the same  range  of vision as Federico Fellini's Amarcord  and Robert Benigni's Life  Is Beautiful. Ishaan  could be Ray's Apu  from  Pather Panchali  transposed  from  the rural idyll of Bengal to the harsh stifling  nightmare  of  Mumbai where the school-bus  uploads  Ishaan  like a perishable commodity. Each day  is a  struggle. Each  morning a   fight to  get those reluctant  feet into the assembly-line…pun  intended. Many  of  the  fringe characters  in  Ishaan's  school's staff-room and  in his immediate vicinity are deliberately  portrayed as  cartoonish and  caricatural. Aamir knows  the fundas  of  fretful  growing-up in and  out and applies them with  well-oiled  wisdom.
Have you seen  how adults look  while talking down impatiently and  condescendingly  to  a child?   Setu's ceaselessly searching  camerawork  penetrates   the  child's world without puncturing the bubble of  the dreamscape that makes a child's world so precious and preservable.  .Some  of  Shankar-Ehsaan-Loy's remarkable   songs and  background music  concretize the creative clutter  in Ishaan's mind. Most importantly Taare Zameen Par  doesn't give you  a patronizing  blue-print on how to bring  up a  child, specially a  'difficult' child.
Sure, it tough  being a kid  in  a grownup's world. Aamir's film lets  this  fact be known  through subtle and  not so subtle but  always sensitive modes  of narration. There're endless  shots  of  under-privileged  children captured on candid camera  that makes  the  film  unnecessarily  self-important. Couldn't Aamir have  focused on  Ishaan's nucleur world and let it be representative  of  the  larger world of sensitive  tenderness? Hope floats  in  macro-cosmic dollops  in Taare Zameen Par. Now you see Ishaan smile awhile. Now you don't. But  it isn't easy being a  parent either.  There're no clear cut  dos and don'ts on parenting.  My only objection in this film  of enormous  virtues  is  the  sanctimonious lecture that Aamir's character, a modern-day sunny and  eminently likeable avatar  of  Sidney Pottier  in To Sir With  Love, delivers  to  Aamir's  rather theatrically-played father  in  his  home.
 This deviation  from the delectable delicacy  of tone adopted  by  the film, jars. But  then Taare… isn't in pursuit of  the perfect voice. Amidst the babble of hysterical and ostensibly rational voices that govern little Ishaan's world   the film finds a scintillating center , a source  of  primary focus  from where all the omissions  of  Aamir's vision (why are all the kids in Ishaan's building so thick-skinned?)  appear not only  excusable but even  perfectly  in-sync with  the fragile universe  that  the narrative creates for its little-big hero.
 Taare…  is a work of multitudinous  virtues and some negligible  flaws.  Most of all it  gives  us  an actor who plays  Ishaan  with a tender force that sweeps  our hearts clean  of all cynicism.  Playing  Ishaan  isn't  the cakewalk that it seems. Darsheel Safary  had  to  first get out of his own child's world and  enter this other tormented and  splintered world of childhood  nightmares and   delicate dreams.
Darsheel   negotiates  that leap  from one impressionable stratosphere  to  another without losing  thread  of   the steps that take  him across . I'm sure Aamir's guidance was invaluable to the boy. But surely  there's much more  to be  said about the child's ability  to take  instructions so  attentively while playing  a   child who quite simply doesn't listen to any extraneous voice!
And  it  isn't   just Darsheel.  The  other children –Sanchet Engineer who plays Ishaan's studious  elder brother and Tanay Cheda who  plays Ishaan's best friend, plus even the back-benchers  in Aamir's  world of  comforting  confusions  —are  splendidly sensitive.
Taare Zameen Par  is a work of art ,a water painting where  the  colours drip into our hearts,  that could easily have fallen into the motions  of  over-sentimentality. Aamir Khan   holds back where he  could easily resort  to  an extravagant  display of  drama and emotions. He  imbues the   canvas  of the child's world  with  colours that  portray the pale but prominent shades of  life .
A word  for Tisca Arora  who  plays  Ishaan's harried  mother. She's  a portrait  of maternal  sobriety  and perfectly in-sync  with Aamir's  portrait  of  restraint.  Aamir's   heart weeps for  the loss of  childhood innocence  along with his eyes. As  an actor  and a  filmmaker  Aamir's sincerity  is  unimpeachable. Take a bow, Mr Khan. It takes a load  of   guts  to create a world so free of  artifice and manipulation.
Jodhaa-Akbar(2008):  Is  Gowariker's Mughal-e-awesome   fated  to be as  tall and magniloquent as Asif's  deserved  costume drama? In  terms  of the  creative and visual terrain  covered  in  the  course  of  the 3 hour-20  minute journey from  history  to  hysteria  from mellow to melodrama, and  back, Gowariker's vision  subsumes a reined-in wealth  of ideas and images suppressed  into an opulent but  aesthetic  orgy  of  love  , romance, war, hatred and secularism and  sublimity.
The  noble righteousness of  the  creative  mind(so evident   in Gowariker's  earlier  films Lagaan and Swades) here jumps out of  the  screen  to  seize  the audience  by  the solar plexus and transport  us into an era when  brother  battled brother  in  bitter rage. But love ,kambakht ishq,  blossomed in the   inner chambers  of a secular Muslim  emperor who married  a fiercely  individualistic  Rajput queen and allowed  space to be her own person.
Wisely  the  narrative patterns Akbar's chequered life love and  wars through the various characters who influence  his mind and heart. To  begin with we see  the  young Akbar being moulded into a  violent creature  of  revenge and acquisition by  his senapati-mentor Bairam Khan(Uri).
But  sorry, Akbar with his melting eyes and a heart to match, won't behead his enemies  unless they  push  him beyond  the brink. In a frightening  burst  of vengeful  brutality  we  see Akbar ordering his soldiers  to thrown down  a   stubborn adversary's head-first  to death . A smashing  mise en scene, no doubt.
 Alas, Akbar lived in violent battle-friendly  times. His  repudiation  of a  culture of  confrontationism  is  benchmarked by  the characters who shape his  life …There's  the very complex relationship that Akbar shares with his foster-mother(Ila Arun, brilliantly  choleric).
This  troubled relationship  and the friction between  the foster-mother and Akbar's  new bride could be straight  out  of  Indra Kumar's Beta…More filmy  stuff? You got it! Doesn't the  ambivalent  equation between  the foster-mother and Akbar's  real mother(Poonam Sinha, eternally  lost as  though worried about  what  the cook must be preparing  back home for the kids' dinner)  remind you  of Durga Khote and Sonia Sahni in Raj Kapoor's  Bobby?
Ashutosh Gowariker purposely and sure-handedly brings in kitschy elements  from great commercial cinema to  provide a kind of warm and  ready-to-wear  accessibility  to his historic tale. The filming of  the durbar-song  Azeem-o-shaan shahenshah is the last word in spectacle.Breathtaking is  the word that comes to mind often in this breathless but never breadth-less tale of vibrant valour and vitality.
Never before have we seen  battle sequences so  spectacular and  energetic  in Hindi cinema. Take  the  opening  sequence where the battle lines close ranks in such passionate  movements that we the audience feel trampled at  the center.
Kiran Deohans' swift-but-sublime  cinematography is of international  caliber, on a par with anything that we've seen  in Gladiator  or  Braveheart. A R Rahman's music  is a bit  of a letdown, though.   Veering between authenticity and  listener-friendliness  it's a bit of a mellow  mish-mash signifying  none  of  those enchanting echoes  of Jodha and Akbar's royal  hearts resonating with  ever-lasting  romanticism.
 The love story occupies the pride of place  in Jodhaa-Akbar.  The  sudden marital alliance between  the benign king and  the free-spririted  Rajput queen, their  post-marriage courtship, the monstrous misunderstanding  that  cuts through their growing fondness, and  the  final   and irreversible  reconciliation, are portrayed with exquisite  and  penetrating  fluidity. Not  once  does  the  director  allow  the  inherent opulence of  his  theme to  overpower  the love that grows like a tender blossom in a parched desert.
Hrithik Roshan's  pleading poetic eyes  in a warrior's  face  define  the historic romance as much as Aishwarya Rai's swan-like grace and passionate individualism . After Dhoom 2  this pair whips up a Mughalai feast of passion and romance without  skipping a single  beat.
There're thundering interludes of  romance between  the  central characters  all done  in a   captivating blend  of   poetry and drama echoing  the past in a sprinkle of ever-renewable emotions. But none  of  this  is ever done in a self-congratulatory  over-flamboyant  style.
Jodhaa-Akbar takes us  back  to a time when love meant  never having to say your are Salim.
Watch this Mughal-e-awesome as a splendidly spiced-up slice  of history. Or just savour  the chemistry between  the warrior and the princess, with hundreds  of  junior artistes, elephants, rabbits and parrots  accompanying  the  couple's journey  from secularism to  eternity.
Image source: IMDb
They say the best things in life are free! India's favourite music channels 9XM, 9X Jalwa, 9X Jhakaas & 9X Tashan are available Free-To-Air.  Make a request for these channels from your Cable, DTH or HITS operator.
Source: https://www.spotboye.com/bollywood/news/jab-we-met-taare-zameen-par-jodhaa-akbar-3-engaging-movies-to-watch-while-you-re-under-covid-19-lockdown-part-13/6096ca8025cb7a2565f9cf36