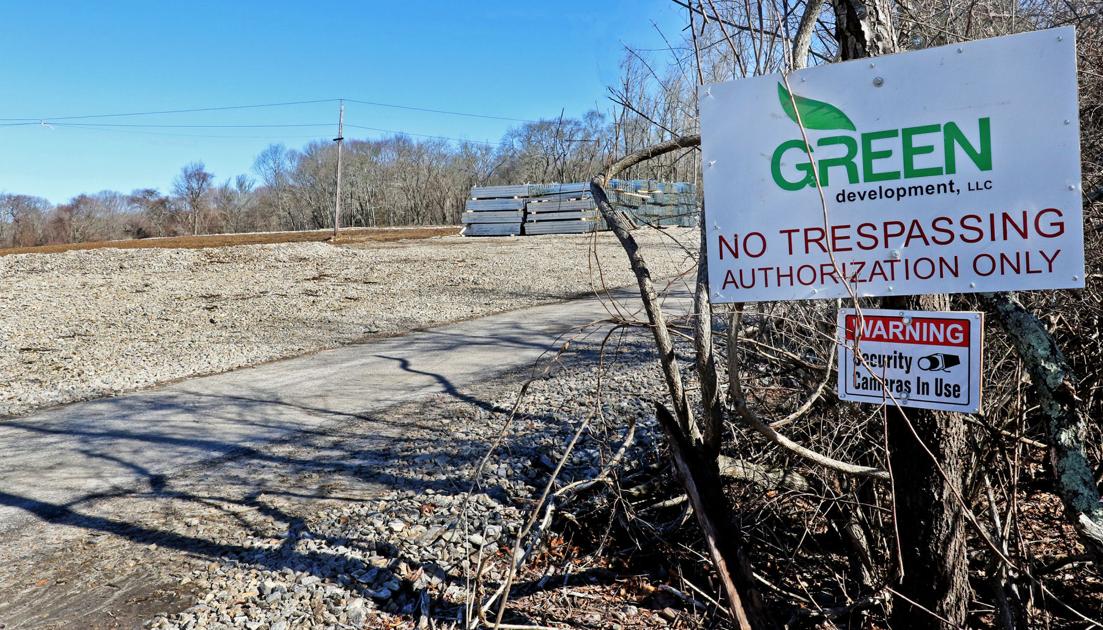 HOPKINTON — As construction of the commercial solar energy project known as "Maxson Hill" continues, abutters have rejected settlement offers made by the developer, Green Development LLC.
Against the recommendation of the Planning Board, the council voted in May 2018 to approve the developer's request to amend the zone of the 139-acre parcel from residential to commercial. Construction of the project, which occupies approximately 55 acres of the property, began last fall.
In January 2019, 13 Hopkinton residents represented by attorney James Donnelly filed a complaint in Washington County Superior Court against the town, several present and former Town Council members, the former and current developers, and property owner Roy Dubbs. The complaint asks the court to declare the town's approval of the comprehensive plan and zoning amendments null and void because of procedural irregularities and other actions on the part of the town.
Green Development subsequently filed a motion to dismiss the action, but it was denied in October 2019.
With the site cleared of trees and construction in full swing, residents were surprised when, just days before Christmas, Green Development owner Mark DePasquale appeared at their doors, offering them $30,000 cash settlements to drop their legal action against the project.
Abutter Lynn LaPierre, who lives across the street from the site, said she first received a letter from DePasquale, delivered by courier, asking whether she would be willing to meet with him.
"Nobody really thought anything of it," she said. "Nobody suspected he would show up at our door. The next day, he showed up around the neighborhood."
LaPierre said she was expecting a delivery, otherwise she would not have opened her door.
"I was expecting an Amazon Prime delivery, the last Christmas present I'd been waiting for and I thought 'oh, this is it' and I opened the door and I was distracted on the phone and there he is," she said.
LaPierre said DePasquale told her he wanted to be a good neighbor and help the abutters.
"I wasn't interested in talking to him, at least on a one-to-one basis," she said. "I would rather have all of us meet and discuss this together before we sit down and talk to him." 
LaPierre and other abutters received a second letter from DePasquale about a week later, offering each neighbor free electricity for 30 years in the form of a $30,000 payment per household.
The abutters met after receiving the second letter, discussed the offer and agreed that they would all decline it. 
"It was like we were being paid to turn the other way," LaPierre said. "You could have taken DePasquale out and put any developer there."
Asked about DePasquale's visits to the neighbors, Green Development spokesperson Bill Fisher said the offers were made in good faith.
"In any community we are working in, we try our best to be good neighbors and work with abutters that may have concerns," he said in a written statement. "In many instances we are able to address abutter concerns without going to court. It can be as simple as planting trees to address viewshed concerns. In this case, it is clear that a select handful of abutters are opposed to the project in its entirety no matter what solutions have been presented to them."
Fisher also suggested that the abutters had received poor legal advice.
"It is also important to note we have every reason to believe this group of abutters has been given bad advice. The project has been completely permitted by the Town and we continue to move forward. Regardless of our belief that this group has no legal right to prevent this project from being developed, Mr. DePasquale sent letters to the abutters in a good faith effort to address their concerns. Unfortunately, a handful of abutters continue to rely on questionable advice."
LaPierre expressed annoyance that after taking several measures to keep people out of the Maxson Hill site, DePasquale had felt free to show up at people's private homes.
"He has 'no trespassing' signs all over his property," she said. "He's got cameras monitoring — I'm sure it's for his equipment but I feel like, as a neighborhood, we're under surveillance. And then, he just feels entitled to come up and trespass on our property and knock on doors and be a 'good neighbor.'"
Residents launched a GoFundMe campaign online on Feb. 4 to raise money to fund further legal action to stop the Maxson Hill and other industrial solar projects in residential zones. As of Feb. 14, the campaign had had raised about $2,400 of the $50,000 goal.
Maxson Hill abutter Justin Bentley, whose home is at the northern end of the cleared parcel, is organizing the campaign.
Bentley, who wasn't home when DePasquale visited the neighborhood, received and declined the written offer.
"None of us signed it," he said. "We met and discussed and decided it was not in the town's best interest."
Bentley explained that the donated funds will be used for any Hopkinton citizens' legal action over solar projects.
"It's stressful, because Maxson Hill, because of the timing, we're kind of at the forefront. We're like the guinea pigs, to see what happens," Bentley said. "This will set the precedent for other [proposed developments] such as Skunk Hill. I don't like being in the limelight. I don't like being on the radar at all, but it's very important to stand up and say 'hey wait a second. This isn't right.'"
LaPierre said she was frustrated that residents had found it necessary to take legal action in the first place.
"I like the idea that we're getting together and pooling resources. I hate the idea that we have to," she said. "The local government is supposed to be there for us. I don't like the idea of having to fight my local government to do its job."
Hopkinton Town Solicitor Kevin McAllister declined to comment on the legal proceedings.
"The town has no comment on that topic at this time," he said.
Source: https://www.thewesterlysun.com/news/richmond-hopkinton/hopkinton-residents-reject-solar-developer-s-settlement-offer/article_a292014c-4f4c-11ea-b785-6b42ef6143b3.html