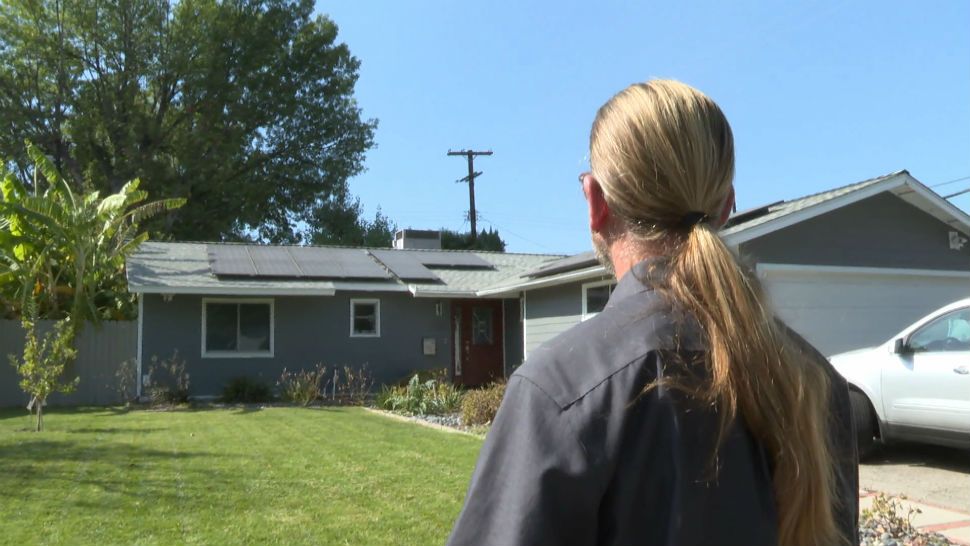 WEST HILLS, Calif. – As gusty winds kick up, Southern California Edison is considering planned power shutoffs to prevent wildfires from faulty equipment.
The planned power shutoffs could affect more than 30,000 homes in Inyo County, Kern County, Los Angeles County, Mono County, Riverside County, San Bernardino County, and Santa Barbara County.
One homeowner in West Hills took an extra step to prepare his home with solar panels and a home solar battery that allows him to store his renewable energy in the case of an outage.
RELATED l Fire Risk Could Shut Off Power to 33,000 SCE Customers
"I have a full charge in this battery right now. If power goes out this evening, I should be able to make it through the entire night without having any loss of power," Scott Klepetar said.
Klepetar has been living in West Hills for over five years and was looking for ways to use renewable energy to keep his home powered on during an outage.
"Knowing earthquake history, fire history here, the second I knew we could [store energy] and have it tied off of our solar to really make a positive effect on our environment for our kids, I jumped at the fact and the opportunity to put it on my house," Klepetar said.
Klepetar also works with a solar company called Sunrun, which provides solar panels and home solar batteries known as a Brightbox, to help homeowners maintain power during an outage.
"In the United States our inverters have to be grid-tied which they have to send it to the grid to be able to operate. The only way to have power during an outage is to have a system like Sunrun Brightbox system which is a combo of PV and battery storage," Klepetar said.
Home solar batteries can range from $5,000 to $10,000. Klepetar said home solar batteries like the one at his home are helping homeowners keep the lights on during a power outage. But for him, it means safety for his family.
"If we have to evacuate very quickly or if we do have to get out of the house, it's a piece of mind to me and my wife," Klepetar said.
With the chance of high winds and planned outages during Southern California's fire season, Klepetar hopes by sharing his story other homeowners living in disaster prone areas will stay prepared too.
Source: https://spectrumnews1.com/ca/la-west/news/2019/10/18/homeowner-prepares-for-power-outage-with-solar-battery