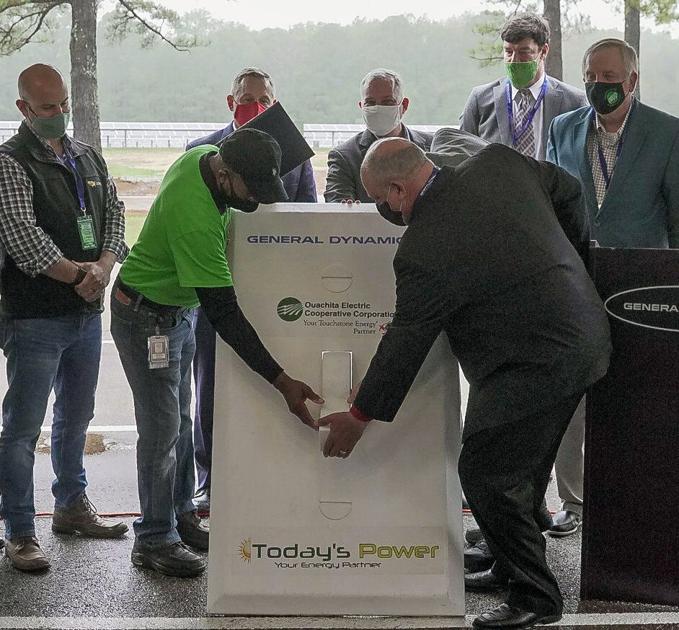 General Dynamics Ordnance and Tactical Systems (OTS) and Today's Power, Inc., flipped the switch Wednesday, symbolically energizing two solar arrays in Calhoun County's Highland Industrial Park.
The arrays provide the defense company with clean electricity. In addition, this project marks the dramatic arrival of battery energy storage in the already robust renewable footprint of South Arkansas. Two Battery Energy Storage Systems (BESS) for Ouachita Electric Cooperative (OECC) were coupled with the two solar arrays installed for General Dynamics-OTS.
General Dynamics Ordnance and Tactical Systems began the information gathering for this project in 2018 with the objective of attaining energy cost reduction and environmental sustainability.
With the existing strategic partnership with Ouachita Electric Cooperative and the State of Arkansas, it was apparent that there was viable opportunity to create a solution that would benefit the environment, the surrounding community, and General Dynamics-OTS.
The Request for Proposals (RFP) issued by General Dynamics-OTS requested options for a Solar Power Services Agreement (SPSA) that took into account federal investment tax credits ('ITCs') and the accelerated depreciation allowance. TPI was chosen as the developer for this project after the RFP phase was completed and provided all the equipment, materials, and services needed for the design, construction, operation, and maintenance of the completed solar facility.
Shortly after the decision of General Dynamics-OTS to go solar, and as more renewables are coming online, OECC saw the opportunity to invest in infrastructure that could enhance the distribution system's resiliency by leveraging the opportunity to demonstrate grid reliability with battery storage and solar energy.
The two solar arrays are each 1.2 megawatts (MW) in size and combined, consist of more than 6,400 Tier 1 solar panels. Together, these innovative systems are projected to produce approximately 91 million kWh over the next 25 years, offsetting the defense company's carbon footprint by 64,341 metric tons.
"Together with our partners TPI and OECC, we have found a solution for expanding our usage of renewable energy and attaining environmental sustainability. This project not only lowers cost, but more importantly, it positively impacts our employees, our community, and the environment. This initiative is the foundation for future endeavors as we continue to reduce our Operations' carbon footprint," said Eric Ellis, VP Precision Systems at General Dynamics-OTS.
The solar systems will power General Dynamics-OTS Camden Operations. As part of General Dynamics-OTS, Camden Operations serves as the company's explosive load, assemble and pack facility, supporting a variety of U.S. military programs, including the HYDRA 70 2.75- inch rocket, Hellfire, Javelin, Stormbreaker and JASSM warheads, the Modular Artillery Charge System (MACS), and various other ordnance programs.
Camden Operations houses over 880,000 square feet of manufacturing and storage space with approximately 300 employees.
The two on-site energy storage systems store electricity generated from the two solar installations and have an output of 2.4 MW for two hours. TPI has developed the battery energy storage system to minimize the wholesale power costs of OECC while also increasing the resiliency of the grid for all OECC customers.
The facility will supplement other distribution facilities of Ouachita Electric, such as the OECC substation in Hampton.
"GD would operate on its own power during regular operations, and OECC would be able to monitor the delivery of electricity to substations and the battery energy storage facility. This provides the co-op the opportunity to restore electricity in the event of an outage. This is quicker than traditional restoration and, because of our fiber connections, we can do this remotely," said Mark Cayce of OECC.
He also said, "being able to provide backup power will eventually be a requirement to provide reliability. We don't want to be in a situation where we have to cut off people, or we're short on generation. These issues will be taken out of the equation by the batteries."
Source: http://www.magnoliareporter.com/news_and_business/ouachita_county/article_93aad544-194c-11eb-819c-5f37df76c3fc.html