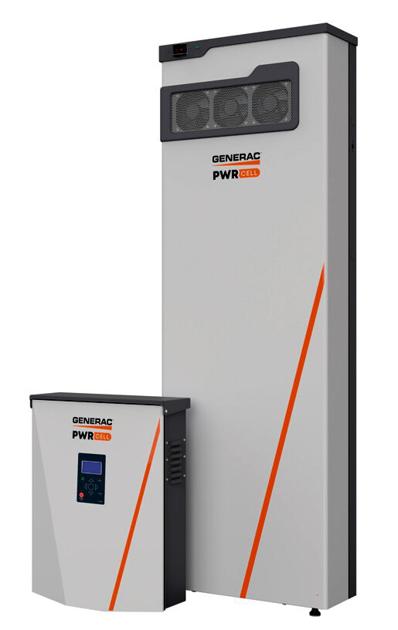 TOWN OF GENESEE 'ÄĒ Generac has unveiled a new product that allows solar power to serve as a backup power source to run an entire home.
The products include the new PWRcell Automatic Transfer Switch, known as the PWRcell ATS, with integrated load management; new higher-capacity batteries rated up to 18 kWh; and an outdoor-rated enclosure that allows for a simple, flexible and 100% outdoor installation.
'ÄúDelivering a whole-home experience from battery storage systems is currently a gap in the industry overall,'ÄĚ said Aaron Jagdfeld, president and CEO of Generac. 'ÄúThe keys to achieving this are high-output power, large battery capacity and intelligent load management. PWRcell is the first to deliver this to homeowners and contractors.'ÄĚ
According to the announcement from the Town of Genesee-based company, the product making the new system possible is the PWRcell ATS, which Generac says 'Äúunlocks the potential to provide whole-home power.'ÄĚ What sets the PWRcell ATS apart from other battery storage systems is that it can power an entire electrical panel while most products are usually limited to a few pre-selected loads during an outage.
In the event of a power outage, the PWRcell ATS disconnects from the grid, allowing the whole home to be an island as power is routed from the battery and solar array to the home's electrical panel.
The PWRcell battery was introduced by Generac in 2019. Beginning in late September, PWRcell installers will also have the option to offer the all-new outdoor-rated PWRcell Battery Cabinet. This outdoor rated enclosure was designed to take full advantage of the improved thermal range of the new EX battery modules and includes additional hardware to help installers get the battery cabinet up and off the ground for easier exterior installations.
'ÄúWe saw an opportunity to bring Generac'Äôs expertise in home backup power to solar and deliver a system unlike anything on the market,'ÄĚ said Russ Minick, chief marketing officer for Generac. 'ÄúThe new PWRcell ATS, combined with load management, increased inverter power and more battery capacity, finally unlocks the full potential of solar. Our customers can now run their whole house on stored sunshine.'ÄĚ
Source: https://www.gmtoday.com/business/generac-unveils-home-solar-power-backup-products/article_ab69c340-dbce-11ea-b9bd-bbc86c9f8325.html