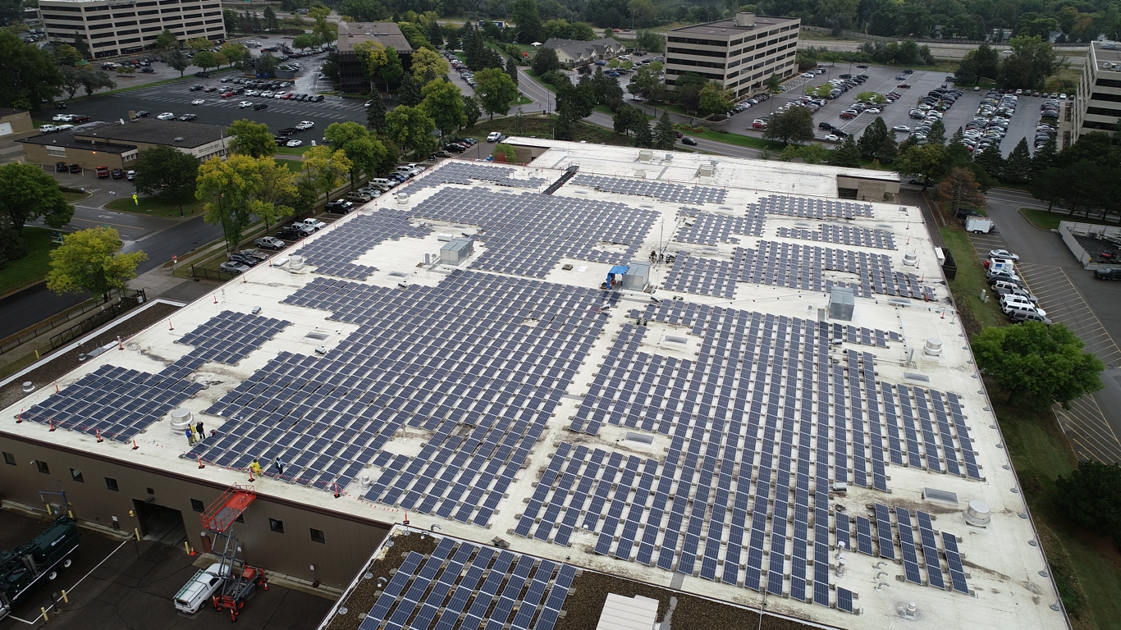 Bedazzled with nearly 2,000 gleaming solar panels, the roof of the Edina Public Works building is about to become the city's newest renewable energy source.
"We're just a couple weeks away from turning it on," Bruce Konewko, project manager for Cooperative Energy Futures, said Oct. 31 as workers were busy connecting the solar array to the energy grid.
To make the project happen, the city of Edina is leasing the rooftop space to Cooperative Energy Futures, a member-owned developer of solar projects in the Twin Cities. Soon, 68 residential subscribers will be harnessing the power of the sun, making the new solar garden unique to Minnesota.
"To date, this is the only community solar garden that we know in the state" that is subscribed to by local residents only, Edina Sustainability Coordinator Tara Brown said.
At 664 kilowatts, the array is smaller than most other community solar gardens, which are normally ground-based and produce 1-2 megawatts of electricity, according to Laura Cina, project manager at IPS Solar, which installed the rooftop system in Edina.
But those larger solar gardens mostly serve businesses and municipalities, Brown noted. Half of the electricity consumed by the city of Edina, for instance, comes from solar subscriptions, she said.
With the resident-focused solar garden about to go operational, Edina is charting a course for other cities to develop similar projects. The legal contract guiding the agreement between Cooperative Energy Futures and the city, Brown said, can now be used as a model allowing other municipalities or even churches to lease their rooftop space to solar developers.
Under the model employed in Edina, the city pays nothing for the solar array, but subscribers save money on their Xcel Energy bill in the form of credits derived from the power generated by the solar garden.
Xcel has the incentive to facilitate such renewable energy subscriptions due to state law that mandates utilities to provide 1.5 percent of their power from solar by 2020. Further, 10 percent of that power must come from rooftop solar systems.
In joining the state and Xcel in encouraging solar power, the city of Edina is looking for ways to make it easier yet for residents and businesses to tap the sun for their energy needs.
"We've actually gone through a process to look at our own permitting and inspections as well as our ordinances," Brown said, "to see if we're ensuring that there are no barriers to residents and businesses being able to put solar on top of their roof if they'd like."
As for the Edina Community Solar Garden, the project started with the city's Energy & Environment Commission in 2015. "They said, hey, we need to invest in community solar gardens," Brown said.
After issuing requests for proposals to solar developers, the city chose Cooperative Energy Futures, in part, because of the co-op's emphasis on socioeconomic equity, Brown said.
The co-op focuses on providing access to community solar gardens to low-income residents, Konewko said. "Most people are doing this purely based on profit. We're not profit-driven," he said.
" … We're the only developer out there that we're aware of that doesn't use a credit score to determine your eligibility."
Konewko added that Cooperative Energy Futures emphasizes workforce training to benefit low-income African-American communities and teams with organizations that retrain people after they have served prison sentences.
This, Konewko said, provides a pipeline to a career in "one of the quickest-growing industries in the world."
On top of selecting Cooperative Energy Futures for the project, Edina focused on equity by stipulating that subscribers be limited to the pay-as-you subscription model instead of allowing upfront payments, Brown said.
Under the pay-as-you-go model, subscribers pay for their share of the array in installments, reaping an escalating number of energy credits over the course of the 25-year subscription, Konewko explained. By the end of the term, subscribers save a cumulative 23-24 percent off their energy bill as a result of their participation, he noted.
Across all of Cooperative Energy Futures' projects, about 10-15 percent of community solar subscribers opt for the kind of upfront payment that is not being accepted for the Edina Community Solar Garden, according to Konewko. With upfront payments, he explained, subscribers get their full share of energy credits immediately as they wait about 10 years for a return on their investment.
Edina wanted to prohibit upfront investments in order to prevent the system from being exclusive to the most affluent residents, Konewko said. "They wanted to be fair and have everybody have a chance to be in it," he said.
With 68 subscribers benefiting from the 1,926 solar panels on the roof of the Edina Public Works Building, demand for community solar remains.
"There is a waiting list for this," Brown said. "We don't have another roof ready for solar at this time, but a lot of people are excited about it."
– Follow Andrew Wig on Twitter @EdinaSunCurrent
Source: https://www.hometownsource.com/sun_current/community/edina-community-solar-garden-about-to-go-live/article_62701466-e367-11e8-8c19-337218a59335.html