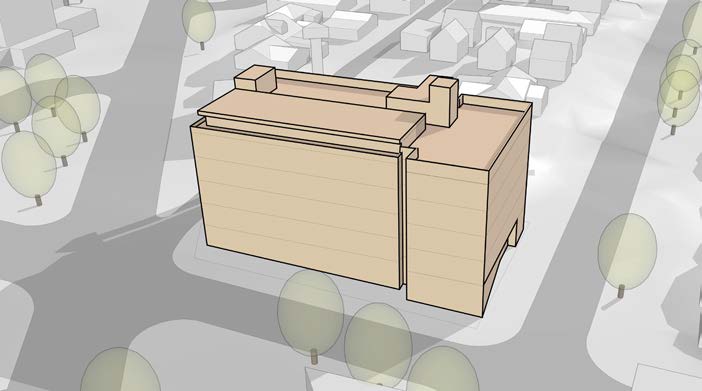 This is the preferred massing scheme for a mixed use building containing 71 units, with two retail storefronts at 9201 Delridge Way SW being proposed. No parking will be provided. 
Atelier Drome Architects
A Design Review Early Design Guidance Meeting for Project Number: 3036618-EG a 5-story, 71-unit apartment building with retail proposed for 9201 Delridge Way SW.
is set for10/01/2020 at 4pm. The meeting will be online
Meeting Info and links: https://bit.ly/Mtg3036618 ; Listen Line: 206-207-1700 – Passcode: 146 556 4265 ;
Public Comment Sign Up: https://bit.ly/Comment3036618
The full design packet can be found here from 2018 but the project has undergone significant changes since then.
It was at one point going to be fity six apartments, then a storage facility and finally now a mixed use facility with 71 apartments and retail.
The end of the public comment period is 09/30/2020.
The early design guidance note and comment form can be found here.
The Current Early Design Guidance packet can be found here.
From the Early Design Guidance packet regarding the preferred "Scheme"
Scheme 3 is a zoning compliant scheme that acknowledges the buildings position as anchor to two separate and different corners. The mass of the building has been split into two volumes, each sized respectively to the zone it abuts, and split by a recess in the building façade which aligns with a circulation corridor within. The residential lobby is accessed from the smaller volume, located on the residential frontage, and the commercial space is accessed from the larger volume, facing the commercial frontage.
NO OF RESIDENTIAL UNITS: 71
NO OF COMMERCIAL STOREFRONTS: 2
PARKING: 0 (NONE REQUIRED)
BENEFITS:
Provides strong street façade to anchor the street frontage
Provides ample space for a developed space and public realm to compliment the adjacent community greenspace
Provides commercial frontage along Delridge Way for additional "eyes on the street" at ground floor
CONCERNS:
The public area at the front façade will need to be carefully planned so that it can transition with the neighborhood and does not provide opportunity for aggravating safety issues in park
POTENTIAL DEPARTURES:
None
COMMUNITY OUTREACH INTEGRATION:
Increased setback at the ground floor along SW Barton St creates generous area for landscaped spaces, permeable surfaces, drainage elements, and other potential sustainable features.
Additional plantings will be integrated into the roof deck amenity space. Solar panels will be installed on the roof
Consistent setback from SW Barton St allows for view and solar corridors
Project team will work with construction team to address parking concerns
Source: https://www.westsideseattle.com/robinson-papers/2020/09/17/early-design-guidance-meeting-set-oct-1-5-story-71-unit-apartment