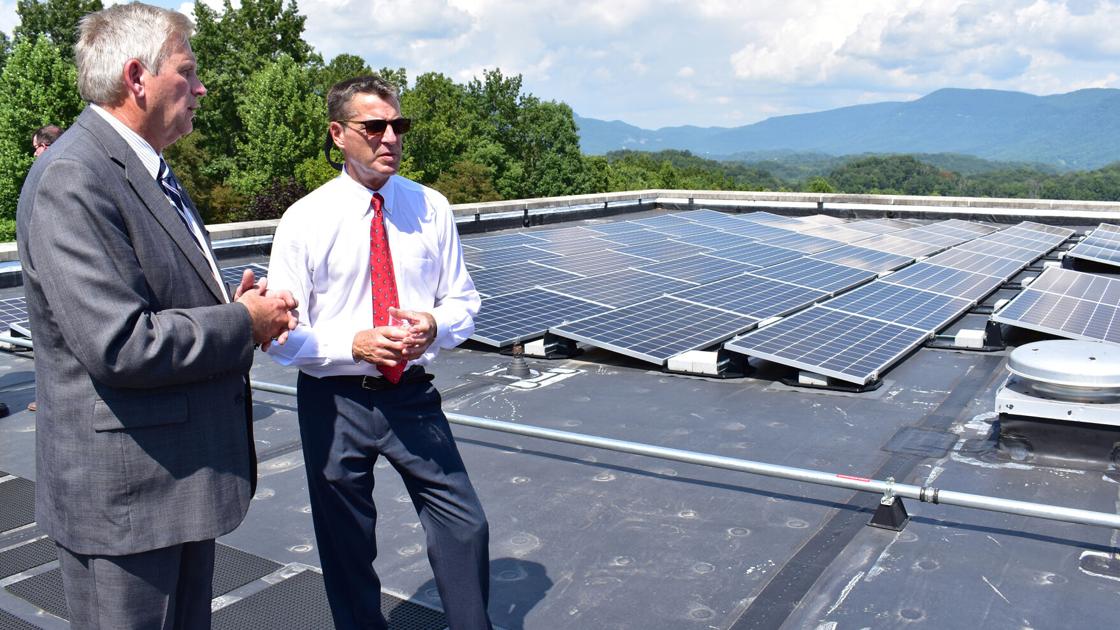 By MIKE STILL
BIG STONE GAP — While the 21st century decline of Southwest Virginia coal production has been the subject of discussion from the dinner table to political campaigns, boom-and-bust has been the industry cycle for decades.
The mid-1990s shutdown of Westmoreland Coal Co. in Wise County helped mark a long-term shift in the region, with midwestern U.S. coal operations gaining a larger share of the domestic market. The growth of coalbed methane and other natural gas production also edged into coal's former dominance as fuel for heating and for generating electricity.
Now, the Virginia Department of Mines, Minerals and Energy is changing in the wake of an overall drop in coal production and mine-related employment and a greater political and societal push for renewable energy: solar, wind and geothermal.
The changes in DMME's mission bring a name change — Virginia Department of Energy — on Oct. 1.
Although the coal industry has contracted, DMME Director John Warren says a declining coal sector does not mean a smaller role for the agency in Southwest Virginia. Reclaiming former mine sites has expanded beyond enforcing land and water quality restoration.
"From an agricultural standpoint, we're doing even more in reclamation," Warren said, pointing to the agency's involvement in projects to encourage barley production in Scott and Lee counties.
Since 2016, DMME has overseen $10 million in federal Abandoned Mine Land Economic Revitalization funds for turning former mining and mine-related sites into economic assets, according to AMLER Project Manager Lesa Baker. Another $10 million federal AMLER allocation is in the works, she added.
One of the more visible projects using AMLER funds is the Project Intersection effort at the crossroads of U.S. Route 23 and Alternate Route 58 in Norton. AMLER funds, with other state and federal grants, helped remove a surface mine highwall and prepare a potential commercial-industrial site.
"We have 25 projects under development with 21 in progress or ready to begin," said Baker. "When people come to Southwest Virginia, they are looking for a quality of life, and these projects help build that quality."
AMLER funds have gone to a variety of projects on or affected by past mining, Baker said, including trail development, traditional music venues, solar energy projects and other ways to help the region diversify what was a coal-dependent economy.
DMME Director of Coal Programs Randy Moore said DMME's oversight of mined land has helped the region's economic development long before the AMLER program. Former surface mine sites have provided land for shopping centers, two hospitals in Wise County and Norton, and several commercial sites such as Project Intersection.
While the agency's Southwest Virginia presence has declined in the past decade, Warren said that has been done through attrition as DMME employees retired or went on to other jobs.
"The coal industry situation was like a snowball rolling, and we made adjustments accordingly," Warren said. "We see Southwest Virginia as a new frontier, though, as the region tries to diversify its workforce and industry. We have kept ourselves relevant to the region."
Overall coal production in Southwest Virginia has dropped from 22.32 million tons in 2011 to 9.81 million tons in 2020, according to DMME data. Mine employment has declined accordingly in the same period, from 4,970 jobs in the region in 2011 to less than 2,000 in 2020.
DMME spokesperson Tarah Kesterson said most of the decline was from dropping demand for thermal coal used in electric plants, as natural gas became a preferred energy source for electric production.
While a detailed breakdown of metallurgical coal production — used in the manufacture of steel — was not available, Kesterson said that type of coal has increased in the total share of production.
DMME Chief Deputy Director Jennifer Palestrant said the region's metallurgical coal production still remains significant for Southwest Virginia, as the agency continues a widening effort to establish more wind power off the Atlantic coast and to develop more solar power capacity.
"Southwest Virginia has great manufacturing connections with the southwest," Palestrant said. "When we're looking at wind power, we have no production chain for the Virginia wind projects yet. There's 6,000 parts in a wind turbine, and the possibility of manufacturing parts in Southwest Virginia."
Palestrant said wind power installations also offer another economic development option to use ridgelines on reclaimed mine land. A Mid-Atlantic Wind Training Alliance of companies and community colleges ties in with other renewable energy initiatives such as Mountain Empire Community College's solar energy program, she added.
However, a coal-fired power plant, Dominion Energy's Virginia City facility near St. Paul, still has a role in the state's energy future, Warren said.
"I think it's pretty well protected by General Assembly legislation for now," Warren said. "While the crystal ball is hard to tell sometimes, the Virginia City plant facilitates gob pile removal in the region."
Palestrant said the Virginia City plant combines a cooling system designed to use less water from the surrounding watershed, but its ability to burn waste coal from gob piles makes it an environmental cleanup asset. Baker said there are an estimated 100 million tons of gob pile coal in Southwest Virginia needing removal because of potential water quality impacts.
Warren said community development has become as important to DMME's mission as overseeing mining operations. With state tax credits for coal production, use, and job creation slated to expire in the next few years, the agency also has to coordinate an economic revitalization report on how to best use additional tax revenues from the phaseout.
Palestrant said DMME's role in that community development remains important.
"Building strong, robust communities is the best kind of community development," said Palestrant. "That includes quality of housing, good broadband, support for aging populations and training."
"The key ingredient is starting at the bottom and making communities welcome to participate in the process," said Warren. "If we can get rid of the myths about Southwest Virginia, people will realize the quality of life in the region and want to come and stay."
Source: https://www.timesnews.net/news/local-news/dmme-changes-name-as-virginia-s-energy-focus-shifts-from-coal/article_74b36bf8-b4ef-11eb-9d41-b7ce3a974a42.html