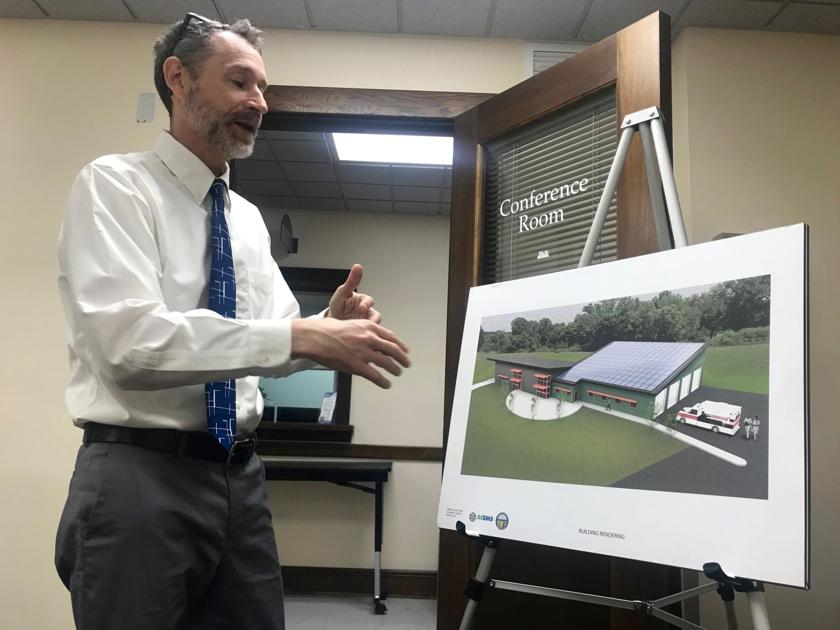 Designs for a new Athens County Emergency Medical Services station inched closer to completion after a presentation from the architect at the Athens County Commissioners meeting last week.
Don Dispenza of BDT Architects of Athens, who are working with the county to design the new building, presented preliminary design plans to the county Commissioners at a meeting last Tuesday morning. The designs were developed after numerous meetings between Dispenza, Athens County Commissioner Chris Chmiel, engineer Jason Morosko of UltimateAir and other partners.
Chmiel said at the meeting that he and the design team have met on a monthly basis since last October to develop the designs as they were presented, which may be updated in light of concerns expressed by the other two Commissioners.
The roughly 9,800-square-foot, single-story building will be constructed on a plot of land owned by the city of Athens located off of Kenny Drive, near the UPS facility, on the city's far West Side. The city has other plans for most of the land, but has signed an agreement with the county to allow a new EMS building to be built on the property.
The estimated cost of the building is about $1.45 million, though Dispenza said that's a rough estimate at this point.
"Building orientation and where we sited it have a lot to do with solar orientation," Dispenza said at the meeting. "The idea (is) that this building is going to be a net-zero building. That required us to orient it in a certain way so that we could maximize as much solar face of the roof as we could."
The south-facing side of the roof would be designed to be "loaded up" with PV solar panels, Dispenza said. "The rest of the building is set up for windows where we need them, passive solar design."
The garage would be large enough to hold eight vehicles. There would be a crew area with bunks, a day room, a kitchen and dining area, as well as patio access "for a little outdoor time for the crews," Dispenza said. There's a "watch room" in the design to allow for control over who has access to various parts of the building.
Also included in the design is a large training room that could fit 32 to 34 people, a kitchenette attached to that area, administrative offices and storage space.
In addition, a mezzanine space would be built overlooking the garage, with stairs leading up to it, which could be used for storage or for exercise equipment. Dispenza said that Athens County EMS crew members had expressed a desire "to have some area where they could set up some treadmills and things" for exercise purposes.
The building would have double walls of studs with a 15-inch cavity that will be filled with a cellulose material for insulation, resulting in a "very high R value all the way around the envelope of the building," Dispenza explained. The double wall system was chosen over a standard wall design "because it's the least cost and highest amount of insulation," he said.
"A dollar more per square foot allowed the energy usage of the building to be cut in half," Chmiel said of the wall choice.
The ample insulation allows for the heating and cooling system in the building to be "very small."
"It's an inexpensive, very simple mechanical system because the building is designed with a lot of insulation," Dispenza said.
Metal siding will primarily be used on the outside walls, Dispenza said, "because it's the lowest-cost material with the least amount of maintenance."
Athens County Commissioners Lenny Eliason and Charlie Adkins at Tuesday's meeting each expressed concerns about the proposed plan to use overhead radiant heating in the garage portion of the new building.
Adkins said the county already has experience with a radiant heating system in the County Engineer's building, which he called "terrible, terrible, terrible."
Eliason said that the county is "having to redo the heat system" in that building because the current system "couldn't keep it comfortable enough for people to be in there (the garage)."
Dispenza seemed hesitant to agree to in-floor heating, as Adkins and Eliason suggested, because of his experience with those types of heating systems.
"In-slab radiant heat is a challenge because it's a maintenance problem," Dispenza said. "If it doesn't get installed absolutely right and has some issues to it, it's hard to maintain it's hard to fix…. We've had issues with condensation on those floors in some areas because we're opening a garage door and at certain times… you're letting in particularly humid air or wet air."
Additionally, Dispenza said the county would need to use a different heating system than the one proposed in the plans he presented Tuesday, if in-floor heating were to be included in the design.
Eliason and Adkins both said that they would like to take a closer look at an in-floor heating option.
"I just remember having the discussion about the Engineer's building and the radiant heat and how it was going to be perfect… It didn't work that way at all," Eliason said. "My experience is negative on it, so I want to make sure that we're doing a little more due diligence on it."
Dispenza said he would be willing to look at the option again, though he said engineer Morosko had studied the current EMS station in Athens to determine whether the option was feasible and they had decided against it.
Another potential change to the designs Dispenza presented would be a bigger training room. County Clerk JoAnn Rockhold said that the training room, which would need to host training sessions for county employees, would be too small if it could only fit under 35 people.
"We would have to put about 65 people in training at a time," Rockhold explained. "… We have nowhere (else) to go to train our people." Currently, trainings are held at the Board of Elections office in the county building, which is too small as it is.
Dispenza appeared receptive to the proposed adjustments, though he noted that any changes in size could also increase cost. "The smaller we make the building, that helps us," he said.
Chmiel said the design planning group will "mull it over" and return with adjusted plans in the future. According to a schedule he provided to The NEWS Sunday morning, the design planning phase for the building is set to be completed later this month.
Source: https://www.athensnews.com/news/local/commissioners-review-prelim-designs-for-ems-facility/article_fd8ff4f0-2d65-11e9-9a19-e35b88a843aa.html