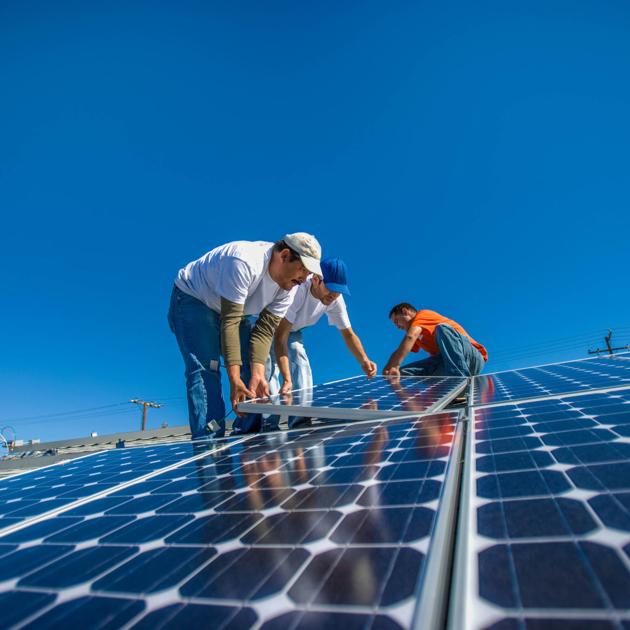 A solar energy farm may be on the horizon in the town of South Boston.
The town council at its Monday evening business meeting unanimously voted in favor of a resolution to add a text amendment to the town ordinance to allow solar energy facilities in the town's agricultural districts, by special use permit only.
The planning commission will review the proposed solar text amendment at its June 3 meeting.
Cenergy, a California-based commercial solar developer, is requesting the development of a 15-megawatt solar facility in a South Boston agricultural district. The proposed solar farm would encompass about 95 acres of land.
"Is it going to create any jobs?" Mayor Ed Owens asked town manager Tom Raab.
Raab said the solar energy farm likely would create jobs, at least on a temporary basis because workers would be needed for the solar panel installation process.
"Will it generate any revenue for the town?" Owens asked.
Raab replied that the solar facility would generate revenue for the town, between an estimated $3,000 and $10,000 per year. He said he would provide council exact numbers on the annual revenue the solar farm would generate at a later date.
Councilman William "Bill" Snead asked Raab if council could have more specific information on the proposed solar energy farm before voting on the resolution.
Raab told Snead that the proposed solar energy farm was not a sure thing at this stage. He also noted that if the town does move forward with the solar energy farm, it would be allowed by special use permit only. That means a public hearing would have to take place prior to council's approval of construction of the solar farm, giving neighbors living in close proximity to the proposed solar farm a chance to voice approval or disapproval of use of the land for solar energy and related concerns.
"This doesn't mean we're going to do it. We're investigating," Raab said.
Raab added that Gov. Ralph Northam has been a proponent of clean energy legislation, and South Boston's exploration of solar energy is in line with the clean energy legislation. He also said the town has plenty of land available for potential solar energy farms.
In other business, council held a public hearing and had a first reading on the town's proposed $12,463,814 budget for fiscal year 2020-2021.
One individual, Anthony Womack, spoke regarding the budget and the Sinai area (see related story).
"We do not have any tax increases proposed. We do have a balanced budget," Raab said.
If any adjustments need to be made to the budget, they will be done during the second reading of the budget at council's June 8 meeting.
Raab shared with council that while the town's current year's budget is in "good shape," meals tax revenues dipped in the month of March because of the COVID-19 pandemic, and he does not yet have the meals tax revenues for the month of April.
This March, meals tax revenues were $136,520.08, compared to $190,131.48 in March of last year and $182,508.95 in March 2018.
"We will probably look hard at next year's budget once we get the figures back for May," Raab said. "I feel real strong that we're still going to hit (this year's) budget figure because we've been running ahead. We're probably going to be right at it."
In other business, council also discussed changing the fee schedule for itinerant peddlers (non-food truck vendors). The town's current itinerant peddlers' fee is $500 per year. Council agreed at Monday's meeting to offer peddlers the option of purchasing a six-month peddlers' license for $250, in addition to the option of purchasing a $500 license for the entire year.
Ice cream truck vendor Michael Coleman addressed council during the public comment portion of the meeting and if council had made a decision regarding the itinerant peddlers' fees, prompting the discussion. Coleman, who also operates a food truck, first brought up his concerns about the town's peddlers' fees during council's January meeting.
The new six-month peddlers' license will be integrated into the town's fee structure for the next fiscal year, meaning peddlers will have the option of purchasing that particular license starting Jan. 1, 2021.
Source: http://www.yourgv.com/news/town_of_south_boston/california-based-solar-developer-eyes-south-boston-for-new-solar-farm/article_949d4bfe-9494-11ea-b7ec-db66f95a65bc.html