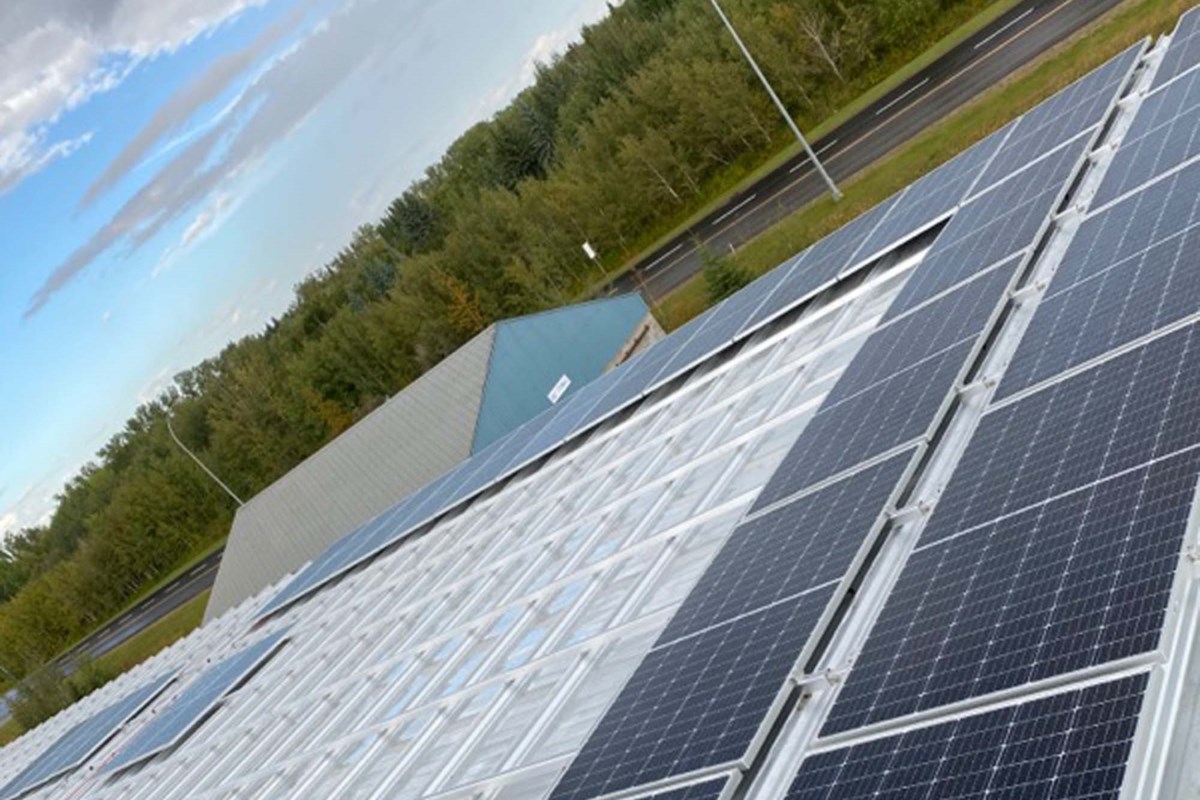 St. Albert's Public Works yard is tapping the power of the sun this month with the construction of a large solar array atop a giant shed.
Contractors with SkyFire Energy began attaching some 660 solar panels to the roof of the sand storage shed at the Jack Kraft Facility on Chevigny Street during the week of Sept. 9.
The panels were part of a 287 kW system commissioned by the City of St. Albert to power the public works yard, reduce costs and cut greenhouse gas emissions.
City environment manager Christian Benson said this $500,000 system is the second large-scale array that the city had placed on one of its buildings. (The other is the 301 kW array atop the Campbell Park bus depot, which is the biggest solar array in town as of this writing.) The array was backed by a roughly $150,000 grant from the Municipal Climate Change Action Centre.
Benson said administration chose to put this particular array atop the sand shed instead of the main public works building because the shed was built to support the weight of such a system and has a wide open flat roof. It is also a very new structure, which is important given the 25-plus year lifespan of solar panels.
SkyFire Energy crew lead Corey Tucker said he and his crew of eight started work on the array in the last week of August. Unlike the bus depot array, which was held in place with concrete weights, this one was physically clamped to the roof.
Tucker said working atop a 42-foot-tall building presented several challenges, including heat stroke and strong winds.
"Solar panels are pretty much like a kite when you carry them," he said, so workers have to wear safety ropes at all times.
Tucker said the array would look like a big black glass roof when it was done and would cover about 98 per cent of the shed's actual roof.
Benson said this array would supply about 39 per cent of the public works yard's annual electricity needs and would pay for itself through cost savings in about 15 years.
In an email, SkyFire Energy spokesperson Greg Sauer said this array should offset some 160 tonnes of greenhouse gas emissions in its first year, which the U.S. Environmental Protection Agency says is equivalent to that produced by the annual electricity use of about 27 homes.
Tucker said he had seen municipal interest in solar skyrocket in the last three years, with many systems now getting into the megawatt range.
"It's a huge financial benefit for these guys," he said.
Benson said administration has proposed to build a $33-million, 15-megawatt solar array that would cover 15 acres of the Badger Lands – one that could eventually make the city $29 million. A $200,000 feasibility study of this proposal is set to go to tender later this year. He also plans to present plans for smaller solar arrays atop Servus Place and the Jarome Iginla Arena during this fall's budget talks.
Installation of the public works array was scheduled to wrap up later this month.

Source: https://www.stalberttoday.ca/local-news/big-solar-for-big-shed-287-kw-array-built-atop-public-works-yard-sand-shed-2703906