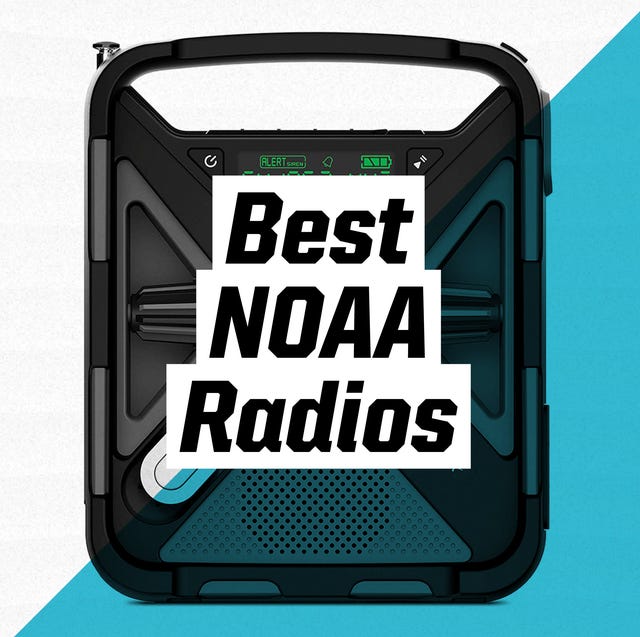 Staff
Investing in a NOAA weather radio is investing in staying safe and informed even (or especially) if you don't have access to electricity. Designed specifically to pick up alerts about extreme weather and natural disasters from the National Oceanic and Atmospheric Association, they're powered by batteries, hand cranks, solar panels, or a combination of the three. Most models have loud alarms and flashing lights. Plus, many of them have extras like AM and FM stations, phone charging ports, and flashlights to make the wait for power a little easier. Check out our buying guide below before diving into the reviews of the best radios to help you figure out which has all the features you might need.
How to Choose an NOAA Radio
When looking for the NOAA radio, you will want to consider your power source, how rugged it is, and extra features.
Power source: Your radio will be powered one of three ways—solar, hand crank, or batteries—and some will include up to all three. A hand crank is the most reliable, as you can always create your own power. Solar is usually accompanied by another power source, but it's a great option if you're hiking or camping out under the sun. And battery power is convenient and low maintenance—just be sure that you have extra batteries on hand so you don't end up with a dead radio.
Durability: If you're going to be taking your radio with you into the outdoors, be sure that it can handle the journey. This means you will want to choose one that is immune to water, drops, and dirt. If you simply want a radio to keep you informed at home, you can go with a less burly—and often cheaper—model.
Extra features: Don't sleep on some of these—they may seem like an unnecessary expense now, but if you end up without power for a few days, they can become essential. Many NOAA radios have built-in flashlights and reading lights, USB phone chargers, and even Bluetooth. You may want to choose one that automatically sounds an alarm if extreme weather is coming—particularly if you live in an area prone to natural disasters.

How We Chose
To find the best options among the many NOAA radios out there, we relied on Popular Mechanics's decades of experience testing and evaluating other kinds of radios and outdoor gear. We took into account their power sources, additional features, sound clarity, and cost. Then we researched expert sources, such as Travel and Leisure and Wirecutter, and more than 40,000 customer reviews on retail sites like Amazon and Walmart. Those customer reviews helped us calculate our Consumer Score, which represents the percentage of people who bought these NOAA radios and rated them at least four out of five stars.
Advertisement – Continue Reading Below
Midland ER310
This Midland model may be on the expensive side, but the extra cash gets you get a brighter flashlight and charging via both hand crank and solar power. In Wirecutter's testing, their reviewers found that "just one minute of cranking produced ten minutes of radio time or a few minutes of flashlight use." The ER310 sound its own loud alarms when an extreme weather alert is detected, and it is compact and portable.
Midland ER210
Almost identical to the ER310 above, the ER210 is smaller, sleeker, and about $20 less expensive. Since the battery isn't as big, you reach full charge with less cranking. Like its sister radio, it also has a loud alarm when weather alerts come in, a bright flashlight, and even a headphone jack.  
RunningSnail Emergency Crank Radio
This is a great, affordable weather radio option—so long as you don't live in a particularly natural disaster-prone area. The Emergency Crank will receive weather alerts—and provides a clear, strong signal when tuned in—but it doesn't flash a light or blare an alarm to accompany those and warn you. The flashlight has three modes to give you the best visibility possible in different lighting—plus it has some extras, like a phone charger and a reading light. 
Eton Sidekick
Capable of fulfilling both entertainment and safety needs, the Sidekick has NOAA, AM, and FM channel connections. If you want to blast tunes from your personal playlist, you can also connect via Bluetooth or an aux cord. Not only will this radio pick up the typical weather alert stations, but also Specific Area Message Encoding (SAME), which gives you access to hyper-local weather. It's easy to carry and can hold up against water and a drop or two, though some reviewers say the flashlight could be brighter.
FosPower Emergency Solar Hand Crank Portable Radio
Affordability alone sells this radio that doubles as a power bank. AAA batteries, the solar plate, or hand cranking can all provide power. It broadcasts AM, FM, and NOAA stations, and is rain-resistant in case of bad weather. You can get illumination from the smaller flashlight or reading light on top. And no worries if a part breaks, because FosPower covers this radio with a lifetime warranty.
Midland WR120
This NOAA radio not only warns you when inclement weather is on its way, but it also  has designated lights that alert you to whether it is a warning (severe storms, could cause damage to property or threaten life), watch (the possibility of inclement weather), or advisory( weather may impede travel, but is not severe)—plus it has SAME alerts. This model uses batteries instead of solar power or a hand crank, so you'll want to make sure that you have some on hand in case of a power outage. If you plan to take the WR120 camping and want to make it up before the sun, you can avail yourself of the built-in alarm clock. 
Vondior Portable Pocket Radio
This pocket size model isn't much larger than your credit card, which for backpackers or minimalists, means you won't have to leave anything out of your carefully constructed hiking pack. Affordable and compact, this radio picks up NOAA stations with crystal-clear reception and runs on batteries, so you don't have to worry about charging it. Should anything break, Vondior covers it under a three-year warranty. And if you're out of power for a while, you can tune into one of the AM or FM radio stations to pass the time.
This content is created and maintained by a third party, and imported onto this page to help users provide their email addresses. You may be able to find more information about this and similar content at piano.io
Advertisement – Continue Reading Below
Source: https://www.popularmechanics.com/adventure/outdoor-gear/g36319121/best-noaa-weather-radios/