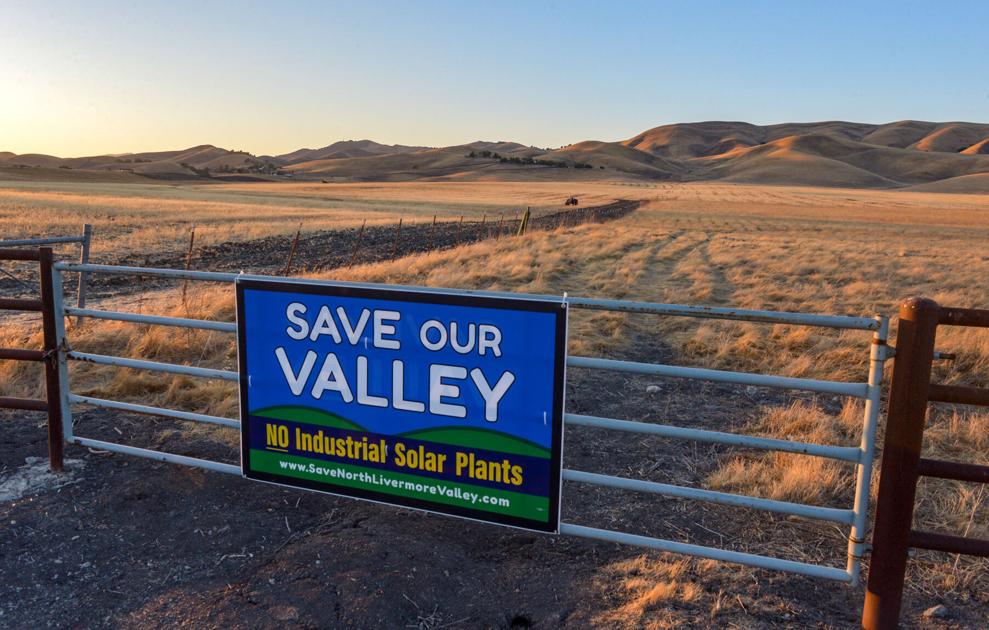 Vinnie Bacon, candidate for the District 1 Board of Supervisors, this week announced his opposition to the solar farm projects, which are proposed to cover over 800 acres of open space north of Livermore.
Vying for the same seat in this coming election, David Haubert — current Dublin mayor — said he will soon solidify his stance on the matter. As of press time, he was set to meet with the project applicants along with Merlin Newton Sr. of the solar farm opposition group, Save North Livermore Valley.
Bacon stated that, based on current information and after visiting the site, he didn't believe the large solar power plants to be the best strategy for generating renewable energy in the county.
"Since moving to south county, I have fought to preserve open space as a Sierra Club volunteer," Bacon said. "I have continued that legacy as a Fremont City Councilmember and am proud to have the Sierra Club's endorsement. One thing I know to be true about open space: once it's gone, it's gone forever."
The solar development proposals are called Aramis Solar Energy Generation and Storage Project (by Intersect Power) and Livermore Community Solar Farm (by SunWalker Energy of Oakland). If given the greenlight, the two projects would respectively cover 750 and 72 acres of agricultural land along Cayetano Creek on both sides of North Livermore Avenue adjacent to Manning and May School roads. Both projects are moving through the planning and review process. They will ultimately need approval from the East County Board of Zoning Adjustments. For Bacon, the vast open space is a source of pride for the Valley, noting it would be sad to see "a key portion of it taken away for a for-profit energy development."
"The open space to the north of Livermore is particularly beautiful and hosts a number of agricultural and natural areas," he continued. "Some of the roadways near the proposed project site are designated as scenic corridors."
Newton echoed the concern that North Livermore's scenic character would be lost, but also pointed to another environmental issue – groundwater contamination. Living on land that abuts one of the proposed solar sites, he said the rainwater runoff from the panels made with metal, concrete and grease would leach into the soil. He pointed out the county's Clean Water Program, which urges residents to wash cars at commercial sites equipped to capture soapy water before it can drain into the population's water system.
"It's no different with the solar panels, which the company will wash," Newton said. "It conflicts with the county's Clean Water Program — there needs to be a policy in place before these projects are approved."
Marissa Mitchell, Intersect Power principle who specializes in the permitting and environmental policy matters, noted her company has plans for both water quality management best practices, along with a stormwater pollution prevention.
"We are required to comply with the state's environmental laws, including the Clean Water Act, which does protect water quality," she said. "We've done a complete 3D modeling to model what happens in an extreme storm situation … we do occasionally wash the panels, and we include the option in our application to wash them a couple times a year. But this is a large-scale cleaning operation, and we spray the minimum water necessary to spray off dust particles."
Mitchell reported the cleanings wouldn't take place during a storm; also, the water use is about a gallon per panel. She further noted measures to capture water include the use of hay bales and detention basins to gather water on-site in order to remove any sediment before it goes into the ground.
In addition to environmental impacts, opponents expressed concerns that other developers would get a foothold in the area should the projects pass and the zoning lines get blurred. Bacon went on to explain further his stance on Measure D — which found voter favor in 2000 by establishing an Urban Growth Boundary that protects open space by blocking urban sprawl. He noted why it connects to the proposed solar farm.
"I am a strong supporter of Measure D," Bacon said. "In my opinion, allowing large solar power plants to be built on these lands goes against the intent of Measure D, which was to protect these areas from development."
Mitchell said she sympathizes with concerns of encroaching development.
"As far as renewable energy goes, there is limited capacity to connect to the statewide electrical grid, so beyond this project, people should not worry about additional generators coming into this area," Mitchell said. "As far as other development is concerned, I think Measure D is pretty clear on the (building ratio) … but this is largely an open-space use."
Mitchell went on to state that while the panels would be driven directly into the soil, vegetation would be maintained, and wildlife would be able to pass through the site. She further noted poisons would not be used to abate the rodent population, as that would directly impact the raptor population. Sheep will be allowed to graze there, and beekeepers will be permitted on-site to forage their honey.
"I don't think a housing development would be able to offer a similar type of proposal," she said.
While Bacon learned Intersect Power's project would permit sheep grazing, he said cattle grazing in that region would no longer be possible – reasserting his stance that the change in agricultural use might not be allowable under Measure D. The area is designated as grazing land by the California Department of Conservation. It's currently used for dry-land farming and cattle grazing.
"As an environmentalist and someone who has served on the Board of the East Bay Community Energy (EBCE) since its inception, I understand the difficulty in procuring renewable energy in the amounts that we need today," Bacon said. "In 2017, EBCE completed a Solar Siting Survey that looked at where infill solar facilities could be located within Alameda County."
Bacon noted that solar panels could be added to rooftops of warehouses and over parking lots within the city's already-developed region.
"Germany is considered one of the best countries in the world for solar, and they've done it with small-scale solar as opposed to the massive farms," he said. "The (EBCE) study found that over 650 megawatts could be generated in the EBCE service territory relying only on infill projects greater than 1 megawatt. When one includes possible projects that are 100 kilowatts or greater, there is a potential to generate a total of 2 gigawatts."
Intersect Power expects to provide 100 megawatts (0.1 gigawatts) – enough to power 25,000 homes annually. SunWalker Energy anticipates its 72-acre project will generate 6 megawatts.
Mitchell indicated Intersect Power looks at such options and that the county is taking a look at rooftop alternatives or alternative sites. But the issue then becomes a matter of a substantial cost increase. In comparison with open-space facilities, rooftop solar installation is about a four-fold increase in cost, Mitchell said.
"We have, of course, as partners working with EBCE and Clean Power San Francisco, we've looked at potential ways they could procure the energy," she said, noting her company specializes in utility-scale facilities. "EBCE did an analysis for distributed scale, and they did find a few places that could serve at this capacity. You have to add up about 10 different sites; you're mobilizing multiple contractors and obtaining different permits. We need both, certainly, but the CCAs (Community Choice Aggregators) that are procuring power are really only interested in procuring power at utility-scale prices in large volumes … If California and the Bay Area want to meet renewable energy goals, they're going to have to look at options for utility-scale power options."
Bacon pointed out that the county had already prepared a draft set of policies in 2018.
"Part of these policy guidelines are to prioritize solar facilities in the current built environment," he said. "I believe that these policy guidelines need to be discussed and finalized before proceeding with any new large-scale solar facilities … We shouldn't have to destroy part of the environment in order to save it."
Source: https://www.independentnews.com/news/bacon-announces-opposition-to-solar-farms-in-livermore/article_4d450cd2-d216-11ea-9236-d3d465875ea3.html