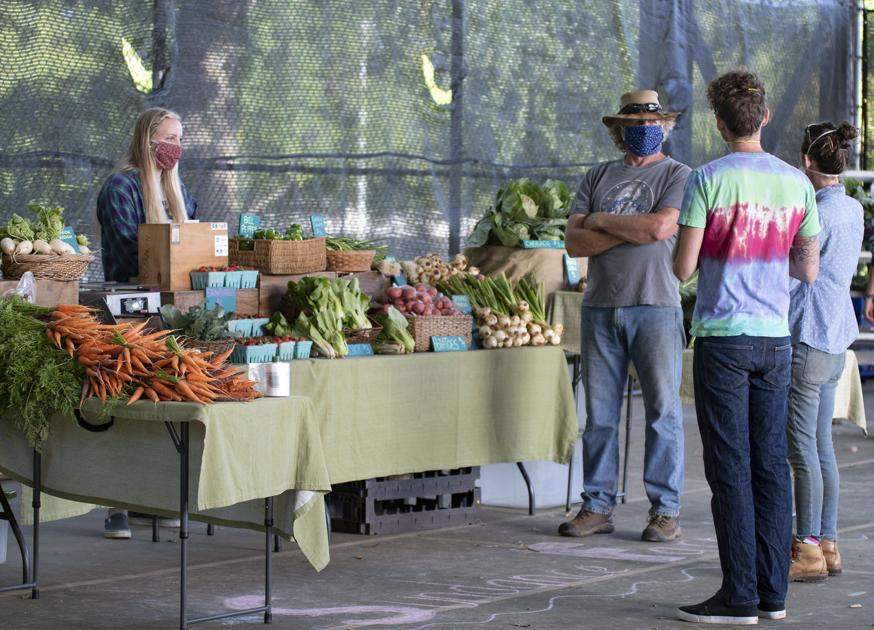 From not being able to use reusable bags or cups to pausing in-person shopping and delaying sustainability budget allocations, COVID-19 has drastically impacted stores' regular environmentally-friendly practices.
Athens business Daily Groceries Co-op has not been slowed down in its sustainability efforts and has even embraced new habits and ideas instead of slashing long-term efforts that were already in place, such as reducing plastic bag use.
"We're noticing that we're using a lot more bags than we used to with curbside pickup and online orders, which is concerning," Kara Brown, general manager of Daily Groceries, said. "What we continue to encourage is customers bringing their own reusable tote bags but bag everything themselves."
The store has made decisions about sustainability as they arise and expect more change to come due to the end of the pandemic not being in sight yet, Brown said.
Emphasizing goals
For Athens Farmers Market, sustainability goals are not being put on hold but are instead emphasized during the pandemic. Composting is a sustainable strategy used by the farmers market to eliminate waste and assist farming vendors, said Sarah Thurman, market manager of Athens Farmers Market.
"With our composting strategy, we've shifted from just eliminating waste at the market to creating a community for people to compost for free," Thurman said. "But with the pandemic, we've actually been eliminating waste even more with fewer samples being given out at the market for sanitary reasons, leaving us with less trash and waste."
While sustainability is important to both Athens Farmers Market and Daily Groceries Co-op, other priorities come into play during an economic and financial crisis such as a pandemic. Finding the balance between sustainability and food accessibility is often put into focus for businesses such as these, so they develop new ways to navigate.
Daily Groceries has also taken initiatives by encouraging customers to bulk buy pantry staples such as rice, beans and flour to lower waste and reduce the amount of trips to the grocery store, Brown said.
Low-waste practices have been commonly used by other Athens businesses as well and, pandemic or not, are advancing to other forms.
Changing behaviors
For Terrapin Beer Co., the pandemic has coincidentally helped its sustainability initiatives. With consumers being the prime contributors of waste in the brewery, closing the taproom early on introduced it to a substantially lower amount of waste, said Dustin Watts, president of Terrapin Beer Co.
"People are more mindful now of the waste they consume when they see how much of it is eliminated during the pandemic," Watts said. "A lot of our sustainability efforts were large investments for us, so we don't want to push it aside even during a pandemic."
Terrapin's environmental initiative, Terraprint, focuses on utilizing water, soil, energy and resources in environmentally beneficial ways. The initiative, which grew in late 2019 with the addition of about 1,000 solar panels on the brewery's roof, has held strong throughout the pandemic and serves as a reference to other businesses pursuing sustainable practices, Watts said.
With human behavior changes, environmentalists are noticing measurable and even visible changes in pollutants, Scott Connelly, ecology professor at the University of Georgia, said. Even without seeing immediate effects, he is hopeful to see changes today benefit the future.
"We're seeing differences in behavior that could have been from social distancing, such as lack of transportation, that is resulting in differences in nitric oxide and carbon dioxide," Connelly, said. "In my perspective, I'm seeing pushback from people to start believing in climate change because it can really sneak up on you if you don't."
By moving forward with green energy and practices in businesses, the environment can see measurable changes by combining economic and environmental efforts, Connelly said.
Source: https://www.redandblack.com/culture/athens-businesses-continue-sustainability-efforts-during-covid-19/article_ac06c744-a46f-11ea-9d52-4bd35e4be7c4.html