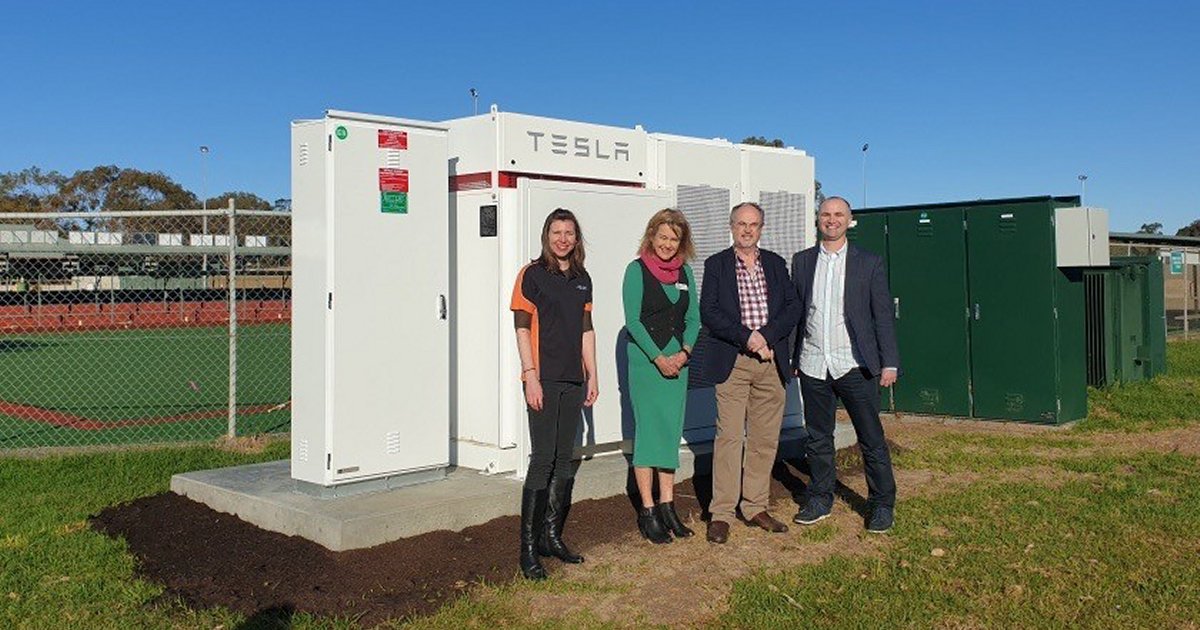 A five-year trial of community battery storage in was launched in Margaret River on Saturday involving a Tesla Powerpack system.
The Shire of Augusta-Margaret River is a local government area in the south-west region of Western Australia, approximately 270 kilometres south of Perth. In Margaret River, solar panels are very popular; with more than 1,065 small-scale PV systems installed in postcode area 6285 (population around 8,000) as at the end of May.
One of those systems is located at Council's Margaret River Recreation Centre, where the newly installed 464 kilowatt-hour Tesla battery will help manage its solar electricity generation, smooth demand issues in the wider electricity network and enable more local households and businesses to install solar panels.
"Community batteries are proving to be a versatile solution to network challenges and I'd like to congratulate the Shire of Augusta-Margaret River for their innovative approach by embracing renewable technology," said WA Energy Minister Bill Johnston.
Western Power will operate the battery and use data collected to identify more locations where large battery storage can be installed behind the meter.
Augusta-Margaret River Shire Councillor Pauline McLeod  said the Tesla Powerpack system will save the Shire $10,000 per year.
"Great news for the grid and great news for our community," stated Cr. McLeod. "We will be helping to transform the energy landscape and creating downward pressure on household electricity bills across the state."
Other Community Batteries In WA
Community batteries have popped up at a bunch of locations in WA over the last 18 months and there are now more than a dozen Western Power controlled community energy storage facilities operational.
Other installations we've mentioned here on SolarQuotes include those at Meadow Springs (105kW/420kWh) and Ellenbrook (116kW/464kWh). In May we reported on a 464 kilowatt-hour Tesla Powerpack battery system to be integrated by Western Power into Kalgoorlie-Boulder's local network.
Last month another 464kWh Tesla system swung into action at Salamanca Reserve in the outer Perth suburb of Port Kennedy, and there are also Tesla installations up and running at Falcon, Busselton, Yokine, Ashby, Two Rocks, Gosnells and Kwinana.
The pace of community energy storage rollout in Western Power's network has picked up in 2020. Western Power has previously commented the rollout has been made easier through the passing of the Electricity Industry Amendment Bill 2019 in April this year and the more recent release of the Distributed Energy Resources (DER) Roadmap; which the utility says will help it support high levels of DER on the network while ensuring safe, secure and affordable electricity supply.
Source: https://www.solarquotes.com.au/blog/margaret-river-battery-mb1598/