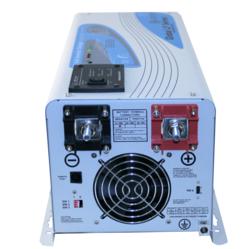 The new AIMS Power 2000 Watt Inverter Charger compares side by side with Magnum MS-2012, Xantrex Freedom SW 2012, and Tripp Lite APS2012SW.
Reno, NV (PRWEB) September 28, 2012
The Inverter Store is proud to present it's new line of AIMS Power Low Frequency Power Inverter Chargers. With the advent of an ever-changing and evolving need for certain types of power inverters, AIMS Power has rolled out the 2000 Watt Inverter Charger, giving a mid-range Marine and Industrial Grade solution for emergency battery backup and off grid systems.
The 2000 Watt Low Frequency Pure Sine Power DC to AC Power Inverter Charger is a great addition to AIMS' Low Frequency Line. This also cuts down on the overall cost of the product, giving customers with a budget a chance to get their hands on a top-of-the-line power system without breaking the bank.
This new inverter charger excels above the competition, It compares side by side with Magnum MS-2012, Xantrex Freedom SW 2012, and Tripp Lite APS2012SW models.
This Power Inverter Charger is built to last for years with heavy duty transformers built in, capable of producing a 6000 watt surge. The inverter also entails a built in transfer switch, swapping power so quickly from grid to battery backup, it's a seamless transition. The end user likely won't even notice if the power goes out in their own home.
This model of power inverter is available in 12 volt, 24 volt and 48 volt versions, and it even has a smaller 1000 watt version for those who don't need too much power.
About Theinverterstore.com
Theinverterstore.com has been in business since 2006 and is located in Reno, NV. The Inverter store's online marketplace offers a complete line of dc to ac power inverters, inverter chargers, low frequency solar inverter chargers, solar panels, Kaco grid tie inverters, and MPPT solar charge controllers. The Inverter Store's professional staff can help consumers decide how much backup power they will need. Also they can help customers design their own system. The Inverter Store offers both modified sine wave inverters and pure sine wave inverters, in 12 volts, 24 volts and, 48 volts. Visit the store online at http://www.theinverterstore.com.
Share article on social media or email:
Source: https://www.prweb.com/releases/power_inverter_chargers/aims_power_inverters/prweb9949359.htm